Necessity of Applying Hammer Crusher in Sand Production Line
Gravel production has become a beautiful scenery line in building material market. There are many things you need to consider before building a gravel factory such as the investment amount, the needed stone crushing equipment and the configuration of a stone crushing production line. Then in gravel production process, how can we choose a more cost-effective stone crusher?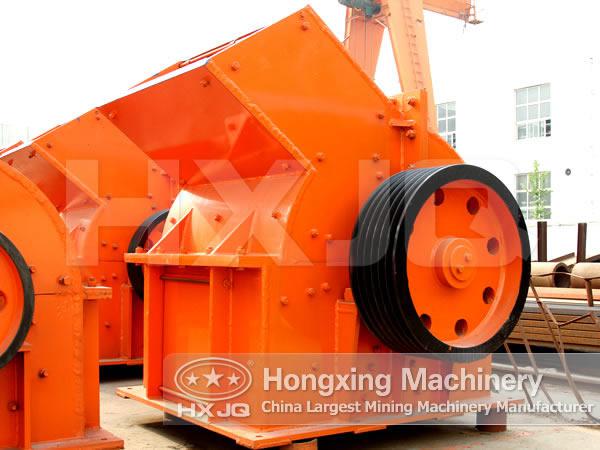 At present, the main configuration of a gravel production line that generally used in the market is: jaw crusher, impact crusher, and sand maker, etc. This kind of gravel production process has a good advantage in production capacity and sand production scale, but the high investment and cost can't meet the needs of medium and small businesses.
In this case, Henan Hongxing Mining Machinery Co., Ltd., taking stone production line equipment as its main research object, successfully developed a new type of hammer crusher which can replace the traditional one. This crusher can be used for primary crushing, second crushing, and achieve single-machine crushing for one time, which truly reflects the multi-use advantages of one machine. It is very suitable for crushing medium hard materials such as limestone and granite, and it will eventually reduce 30-40% of investment cost in sand production and really achieve small investment and quick yield.
According to the introduction of researchers of Hongxing Machinery, heavy hammer crusher combines the advantages of single-stage hammer crusher and impact crusher, namely, this crusher adopts the structure and shape of impact crusher and uses the rotor type of hammer crusher which can make the hammerhead of crusher rotate around hammer axis, greatly increasing the productivity of equipment and stability of performance, reducing the cost, so that it is especially suitable the large-scale crushing production requirements of crushing plant.
Hammer crusher plays an important role in the whole sand production line, so the correct selection of crusher equipment will fundamentally reduce production costs and improve profits. Therefore, Hongxing heavy hammer crusher is your best choice in sand production line.
Related Articles:
Personal Synopsis on Zhengzhou Hongxing Hammer CrusherThe Designing System Mission of Hammer Crusher Design of Hammer and Main Shaft of Hammer CrusherThe Latest Research Results of Hongxing Hammer CrusherCorrectly Selecting Hammer Weight Improves Crushing Efficiency of Hammer CrusherPCZ Type Heavy Hammer Crusher Is the Best Mining Machine