CONTACT US
Tel: +86-371-67833171
E-mail: customer@hxjq.com
MSN: hxjq@hxjq.com
Yahoo Messager: hxjqchina@yahoo.com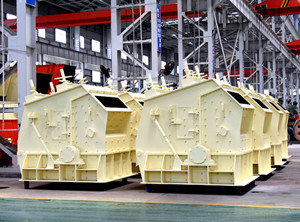 Impact Crusher
Impact Crusher Equipped With New Technology
Hongxing impact crusher is new type high-efficiency crushing equipment. This crusher mainly consists of board hammer, impact plate, board hammer pedestal, rotor, and feed port, etc. Our impact crusher is one of the most frequently used rock crushers because of its advantages of simple structure, reliable quality and energy-saving.
Hongxing impact crusher is ideally suited for breaking materials with a grain size of not more than 300mm and compressive strength of not more than 350 MPa. It can crush materials of all hardness by being an ideal piece of equipment for secondary crushing. The crushed materials with a cubic shape are widely used in the construction of highway, railway, airport, and others. Additionally, our impact crushers have obtained ISO 9001:2000.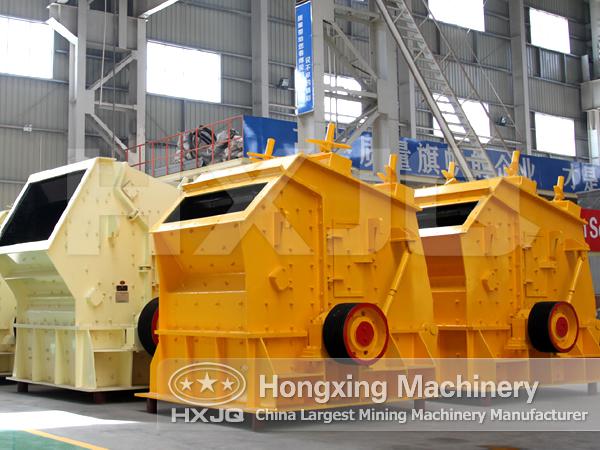 Structural And Feature Of Impact Breaker
1. It has big feeding mouth, high crushing chamber, high adaptability of the material hardness and small amount of stone powders
2. The gap between the impacting plate and the plate hammer is convenient to adjust so that it can effectively control the discharging granularity and the particle shape is good.
3. It has compact structure and strong rigidness, and the rotor has big rotational inertia.
4. It adopts high chromium plate so that it has shock resistance, abrasion resistance and big impacting force.
5. It adopts no key links so that it is convenient in maintenance and repair and economical and reliable.
6. It has comprehensive crushing functions, high production ratio, small abrasion and high comprehensive benefits.
Working Principle Of Impact Stone Crusher
When the materials enter the field of the hammer, it is impacted by the hammers, thrown onto the impact plate, and crushed. The stuff springs from the impact plate, is impacted by the hammers again, and thrown onto impact plate. This process will last until the stuff meets the requirement and falls from the machine. Adjusting the distance between impact frame and rotor frame can change the shape and size of the output. When some foreign stuff enters the machine, the impact frame will fallback, the stuff falls from the machine. This device can prevent machine from damage.
Supplier Of China Impact Crusher
PF series impact crushers are widely used all over the world in recent 20 years. The technologies and applications of mobile impact crusher, impact stone crusher, mineral impact crusher and other impact crushing machine are the main developing trends in stone crushing plant. It has been proved that this series of crushers can effectively increase productivity and final products quality. And they can also greatly reduce the investment costs and operation costs. Incomparable excellent performance is shown in the secondary crushing, tertiary crushing and material recovery. We offer several models of high-quality impact crushers used in both primary and secondary crushing applications of aggregate.
Model
Specification
(mm)
Feed
opening
(mm)
The Maximum
Feeding Size
(mm)
Capacity
(t/h)
Power
(kw)
Total
weight
(t)
Overall
dimension
(L×W×H)
(mm)
PF-1007
Φ1000×700
400×730
300
30-70
4P 37-45
12
2330×1660×2300
PF-1010
Φ1000×1050
400×1080
350
50-90
4P 45-66
15
2370×1700×2390
PF-1210
Φ1250×1050
400×1080
350
70-130
6P 110
17.7
2680×2160×2800
PF-1214
Φ1250×1400
400×1430
350
100-180
6P 132
22.4
2650×2460×2800
PF-1315
Φ1320×1500
860×1520
500
130-250
6P 200
27
3180×2720×2620
PF-1320
Φ1300×2000
993×2000
500
165-320
6P 250
34
3220×3100×2620
PF-1520
Φ1500×2000
830×2040
700
300-550
4P 315-400
50.6
3959×3564×3330
PF-1820
Φ1800×2000
1260×2040
800
600-800
6P 630-710
83.21
4400×3866×4009

Note: If you're interested in the product, please submit your requirements and contacts and then we will contact you in two days. We promise that all your informations won't be leaked to anyone.