The Latest Research Results of Hongxing Hammer Crusher
As the latest research results of Hongxing Hammer Crusher, Hongxing single cylinder hydraulic hammer crusher sets of mechanical, hydraulic, electrical, automation, intelligent control technology in one, with many incomparable advantages of traditional crusher, so it is preferred breaking equipment for pebbles, crushing production lines, granite production lines and so on.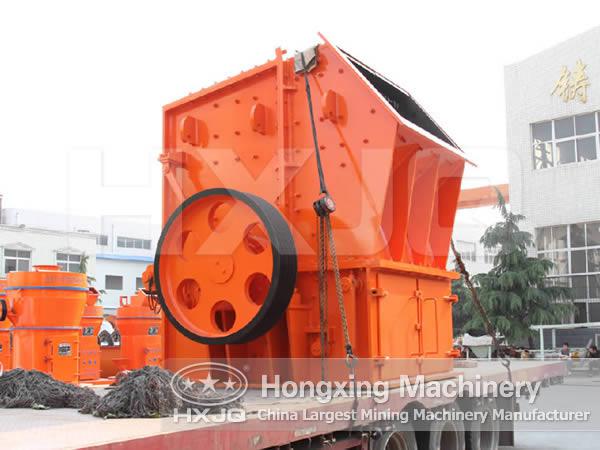 At present, seen from the property, quality of artificial sand made by cobble and granite is higher than that of artificial aggregate made of limestone, so artificial sand made by cobble and granite is the preferred material of highways and high-grade building. This is mainly due to the hardness of pebbles, prone to physical changes. However, if users want to process this type of hard stone into stone for construction, robust crushing equipment is necessary. For this requirement, hammer crusher stands out in various crushers with its unique design and superior performance in its areas, and it has now become essential breaking equipment for large construction such as highways, railways, hydroelectric plants, etc.
According to the study from Hongxing research and development center: Hongxing single cylinder hydraulic hammer Crusher features a brand new structure, reasonable eccentricity, cavity and motion parameters, greatly improving production capacity and efficiency. Optimized pyramid broken cavity not only increases the crushing production and efficiency, but also improves the particle size of finished product. In addition, the new intelligent control system allows accurate adjustment and easy maintenance in work process.
Related Articles:
Personal Synopsis on Zhengzhou Hongxing Hammer CrusherThe Designing System Mission of Hammer Crusher Design of Hammer and Main Shaft of Hammer CrusherCorrectly Selecting Hammer Weight Improves Crushing Efficiency of Hammer CrusherPCZ Type Heavy Hammer Crusher Is the Best Mining MachineApplication of Hammer Crusher in Blast Furnace Slag