Roller Crusher Becomes the most Economical Sand Making Equipment
The investment cost of the roller crusher is relatively low, but the sand and stone products crushed by this machine is not high in quality, for this reason, it is suitable for crushing low-graded building-used sand and stone aggregates, and it has become the most economical sand making equipment.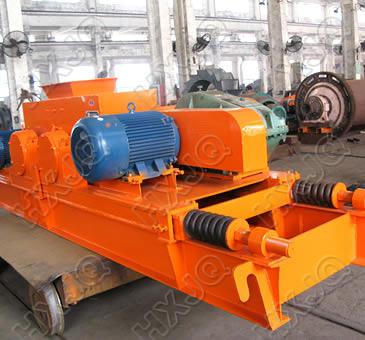 At present, in Guizhou, Hunan and Shandong, the sand and stone production lines in many stone crushing sites are relatively simple in the equipment configuration and production technology. Roller crusher has long been widely used in these places and brought good economic interests to the customers. However, the roller crusher in the market is relatively traditional so that it is not only unstable in the performance and high in energy consumption, but the over crushing powder rate of the produced sand and stone aggregates is high.
Reducing the energy consumption and realizing energy conservation and emission reduction of the roller crusher is the key. Many mining machinery manufacturing companies in China tried to improve the research and development technology of the roller crusher and promote the product upgrading. Hongxing Machinery has achieved a lot in the energy conservation aspect of the roller crusher. The roller crusher manufactured by our company is not only small in the size, high in the crushing ratio and low in the production noises, but the energy consumption is reduced by 30%, and the sand and stone aggregates produced by this machine are even in granularity.
Learning from the sand and stone department of Hongxing Machinery that the most important reason for wide application of roller crusher lies in that the investment cost is low, but the sand and stone aggregates produced by this machine is not good in quality. In order to provide quality sand and stone aggregates for large buildings, high-speed railway construction and water and dam, the mining machinery manufacturing companies must improve the equipment configuration and production technology of the stone crushing production line and they can use the hare rock impact crusher, the sixth generation sand maker and superfine cone crusher because they have good performance in the crushing process.
Related Articles:
Double-teeth Roller Crusher has an Important Role in Open-pit MiningGist on Correct Operation and Maintenance of Roller CrusherEnergy Saving and Emission Reduction for Roller CrushersRoll CrusherStructural Designing Features of Roller Crusher