Gist on Correct Operation and Maintenance of Roller Crusher
When the roller crusher crushes the materials, the roll surface will gradually abrade, for this reason, the crushing machine must be fed with materials in the direction of the length of the roller and in a regular manner. If the materials are fed into the crushing machine in an irregular manner, ring groove may show on the roll surface which may influence normal work of the crushing equipment and the product granularity may not be even. When feeding materials, the feeding material not only needs to feed the crushing machine in an even and continuous way, but that the length should be the same with the length of the roll.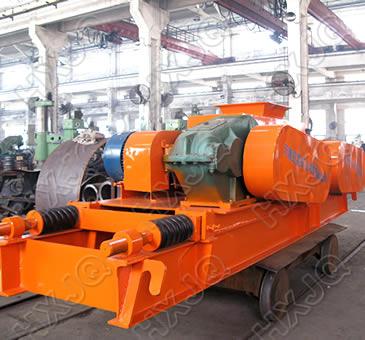 As for the roller crusher, regular repair and maintenance of the roll surface is very necessary. Sometimes there is equipped with grinding wheel on the machine shell of the plain roller crusher, so when there is pit or groove on the roll surface, there is no need to dismantle the roll surface but directly grind and repair the roll surface, and at this time overlaying device may be needed to equip on the crusher. Some plain roller crusher has roll automatic axial reciprocating motion device, thus making the abrasion of the roll surface even.
When the teeth of the crushing equipment is abraded to a certain degree, the worker should change or repair it in order to prevent the problem that the product granularity is not even, energy consumption increases and the production capacity decreases.
After the roll surface is abraded, the material discharging mouth may increase, for it will be necessary to adjust the movable roll. When adjusting the roll, the two rolls must be kept parallel. As for the double-roll crusher which the movable roll is installed on the rocker arm or with the hydraulic compensating gear, when moving the movable roll, it will automatically ensure parallel of the two rollers.
In order to ensure normal work of the roll crusher, the lubricating condition of the bearing must be checked regularly. The movable bearing should be added with a grease cup and the antifriction bearing should be regularly added with dry oil for lubrication and sealing.
Related Articles:
Double-teeth Roller Crusher has an Important Role in Open-pit MiningRoller Crusher Becomes the most Economical Sand Making EquipmentEnergy Saving and Emission Reduction for Roller CrushersRoll CrusherStructural Designing Features of Roller Crusher