Roll Crusher
Overview of Roll Crusher:
Roll crusher is also called double roll crusher, roller crusher, teeth roller crusher, and it is suitable for crushing materials whose feeding granularity is smaller than 80mm and whose final granularity is 50mm-20mm. It is widely applied in many industries such as cement, chemistry, power station, mining, metallurgy, building materials, refractory materials and coal.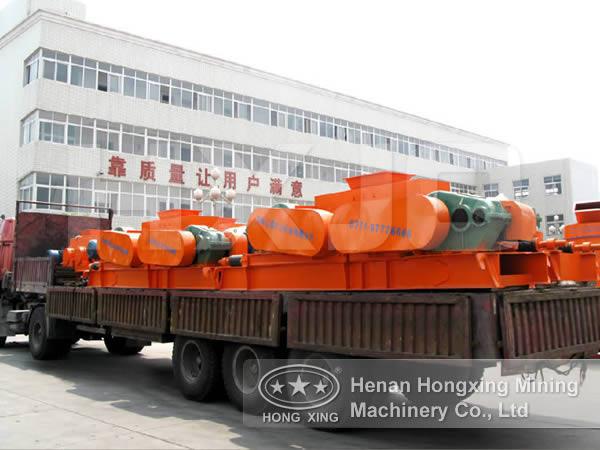 Main Features of Roller Crusher:
1. In the powder grinding system, when the double roll crusher is equipped, the production capacity of the powder grinding equipment will get full play, and generally speaking, the output can be improved by 30%-40%, and the total energy consumption can be reduced by 2-%-30%.
2. The roll crusher is compact in structure, light in weight and small in size, and investment can be significantly saved compared with the powder grinding system with the same production capacity.
3. The teeth roll crusher is simple in structure and covers smaller size and the maintenance and repair is more convenient.
Structure and Working Principle of Roll Crusher:
1. This series of roll crusher is composed by several parts of roll wheel, roll wheel axial bearing, compacting and adjusting device and the driving device.
2. The driving department consists of two motors, triangle belt, sheave wheel and the roll wheel, and its working principle is like this: the two motors rotate towards the relative direction through the driving of the triangle belt and dragged by the roll wheel. During the crushing process, the materials go through the roll wheel by way of the material feeding mouth and are crushed by the roll, and the final products that are crushed are discharged though the bottom of the under frame.
3. For the sake of safety, the driving part should be installed with safety guard according to the actual condition.
4. In order to obtain products with different granularity, the discharging mouth of the teeth roll crusher has to be adjustable.
Application of Double Roll Crusher:
The roll crusher has many advantages such as reliable working condition, simple repair and maintenance, low operational cost and adjustable discharging granularity. According to the number of the rotor, it can be divided into double roll crusher and four-roll crusher, and it has wide application in processing all kinds of crisp and tenacious materials in refractory materials, cement, metallurgy, power station and coal and other industries.
Related Articles:
Structure and Working Principle of Four Toothed Roll CrusherDouble-teeth Roller Crusher has an Important Role in Open-pit MiningStructural Designing Features of Roller CrusherEnergy Saving and Emission Reduction for Roller CrushersOne Invincible Mining Machine in the Coal IndustryRoll Crusher with High Potentials in Mining Industry