CONTACT US
Tel: +86-371-67833171
E-mail: customer@hxjq.com
MSN: hxjq@hxjq.com
Yahoo Messager: hxjqchina@yahoo.com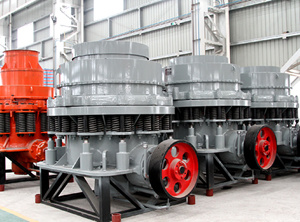 Overview Of Cone Crusher
Cone crusher is widely applied in metallurgical, construction, road building, and chemical industry. It is suitable for hard and medium hard rocks and ores, such as iron ores, copper ores, limestone, quartz, granite, gritstone, etc. Type of the crushing cavity is decided by the application of the ores, there are Symons cone crusher, Hydraulic cone crusher, secondary cone crusher and other types. If you want to choose and purchase excellent rock cone crushers, as one of the famous crusher suppliers in China, Hongxing Machinery will be your nice choice.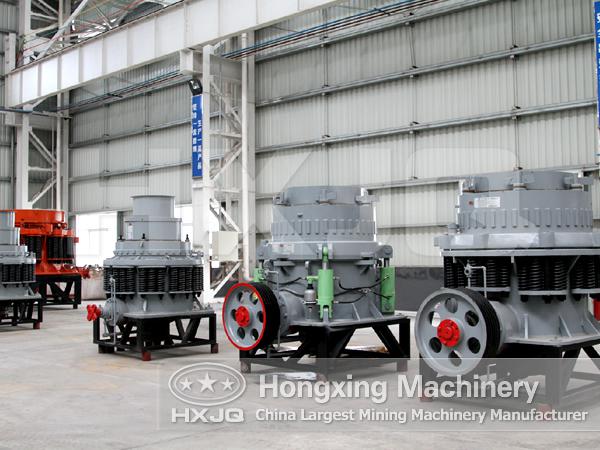 Characteristics Of Secondary Cone Crusher
When some foreign matters that cannot be crushed go into the crushing chamber or the machine is overloaded due to some reasons, the spring protection system of cone crusher will increase the discharging mouth and the foreign matters will be discharged from the crushing chamber, thus realizing protection. If the foreign matters are stuck at the discharging mouth, the spring protection system will start the chamber cleaning system and continue to increase the discharging mouth, so that the foreign matters can be discharged from the crushing chamber of cone crusher. Under the function of the spring, the discharging mouth will be automatically reset and cone crusher will resume normal work. This series of cone crusher is divided into three types, namely coarse cone crusher, medium cone crusher and fine cone crusher and the customers can choose different type according specific needs.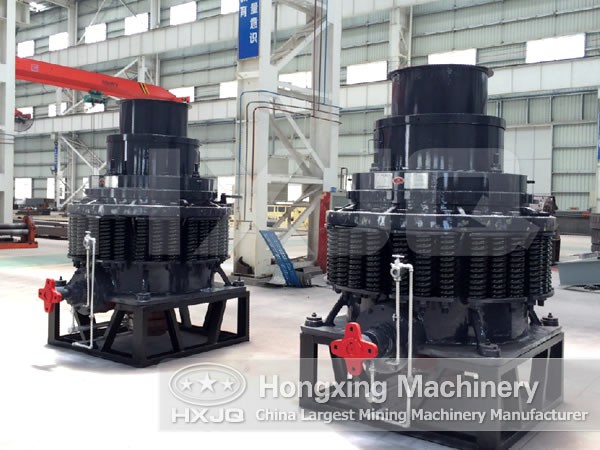 Working Principle Of Cone Crusher
Cone crusher crushes materials by the working surface between the movable cone and fixed cone. So it is more advanced and efficient than jaw crusher. The movable cone is supported by spherical bearing and fixed on a hanging erect shaft which is set in the eccentric sleeve, and the sleeve is set on the stopping and pushing bearing. The movable cone and erect shaft are driven by the eccentric shaft sleeve together. The eccentric shaft sleeve is driven by horizontal shaft and fabricated gear, and the wheel of the conveyor belt is driven by motor through v-belts. The lower part of vertical shaft is installed in the eccentric sleeve. When the eccentric sleeve rotates, there is a conical surface lined out by the shaft. When the movable cone comes near the fixed cone, rocks are ground into pieces; when the movable cone leaves, ground materials will be discharged from the discharge hole. The fixed cone can be ascended or descended by adjusting setting to adjust the width of discharge hole, consequently the output size is determined adjusted.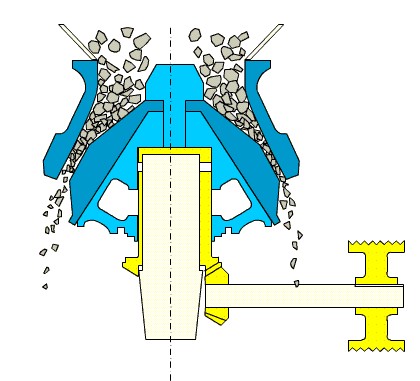 Application Of Hydraulic Cone Crusher
HPC series cone crusher with high-efficiency and hydraulic pressure is widely used in mining, cement factory, sand and stone industry. It is used for secondary and fine crushing of all kinds of rocks, whose pressure strength resistance is under 350Mpa, such as iron ores, nonferrous metal ores, basalt, granite, limestone, sandstone, cobble, etc.
Doing Careful Inspections During Operation
1) Feed at an even speed. The size of raw materials must be desirable and smaller than 20% of the feeder.
2) Those undesirable materials are forbidden.
3) Check the oil mass and temperature in the lubricate system and make sure oil temperature is below 60℃.
4) Make sure the water-proof system has enough water.
5) Keep the water cooling system smooth and with enough hot water.
6) The adjusting ring can only work when locked tightly.
7) Pay attention to wear pattern of plate and fasting situation of each part and change the parts in time.
8) Examine the size of the final product and keep it desirable.
Advantages Of Hongxing Cone Crusher
Henan Hongxing Mining Machinery Co., Ltd. is one of the professional and the largest crusher manufacturers in China, and the cone crusher, China impact crusher and hard rock impact crusher manufactured by our company are not only superior in quality, but competitive in price.
1) Hongxing cone crushers perform well in crushing various kinds of ores and rocks of medium or above medium hardness. It has the advantages of stable structure, high efficiency and long lifetime. Because we adopt energy saving technologies, the cone crushers consume less energy when comparing with other brands. Our particular design ensures continuous operation.
2) Our cone crusher can be easily integrated into automation system; as a result the overall efficiency can be increased dramatically.
3) The spring safety system of crusher acts as an overloading protection system, which allows metals to pass through the crushing chamber without damaging the cone crusher. The safety system uses dry oil and water as two kinds of sealed formation to make plaster powder and engine oil separate in order to ensure reliable performance. So the life time is longer, and then the whole cost is reduced.
4) Hongxing cone crusher is suitable to crush medium size, fine and ultrafine powders by depending on the different type.
If you want to choose and purchase excellent rock cone crushers, as a famous and professional China cone crusher supplier, Hongxing Machinery will be your ideal choice.
Specification
Model
Diameter
of large
end of
crushing
cone
(mm)
Max.feeding
size(mm)
Width of
discharge
opening
(mm)
Processing
capacity
(t/h)
Motor
power
(kw)
Total
weight
(t)
Dimensions
(L×W×H)
(mm)
Φ600
PYB600
600
65
12-25
40
8P 30
5
2234×1370×1675
PYD600
35
3-13
12-23
5.5
2234×1370×1675
Φ900
PYB900
900
115
15-50
50-90
8P 55
11.2
2692×1640×2350
PYZ900
60
5-20
20-65
11.2
2692×1640×2350
PYD900
50
3-13
15-50
11.3
2692×1640×2350
Φ1200
PYB1200
1200
145
20-50
110-168
8P 110
24.7
2790×1878×2844
PYZ1200
100
8-25
42-135
25
2790×1878×2844
PYD1200
50
3-15
18-105
25.3
2790×1878×2844
Φ1750
PYB1750
1750
215
25-50
180-360
8P 160
50.3
3910×2894×3809
PYZ1750
185
10-30
80-210
50.3
3910×2894×3809
PYD1750
85
5-13
60-180
50.2
3910×2894×3809
Φ2200
PYB2200
2200
300
30-60
420-700
8P 280-260
80
4622×3302×4470
PYZ2200
230
10-30
130-410
80
4622×3302×4470
PYD2200
100
5-15
80-200
81.4
4622×3302×4470

Note: If you're interested in the product, please submit your requirements and contacts and then we will contact you in two days. We promise that all your informations won't be leaked to anyone.