Introduction to Three Common Sand Making Ways
With the continuous shortage of the river sand resources in our country, the weathering placer is becoming more and more important. At present, Hongxing Machinery researched and developed a type of sand maker which is able to process the weathering placer into artificial sand that conforms to the requirement of construction project. This type of sand maker is widely used for medium and fine crushing various hard and crisp materials such as rocks, abrasive materials, refractory materials, cement clinker, iron ore and concrete aggregate and it is ideal sand making device for building and road-paving.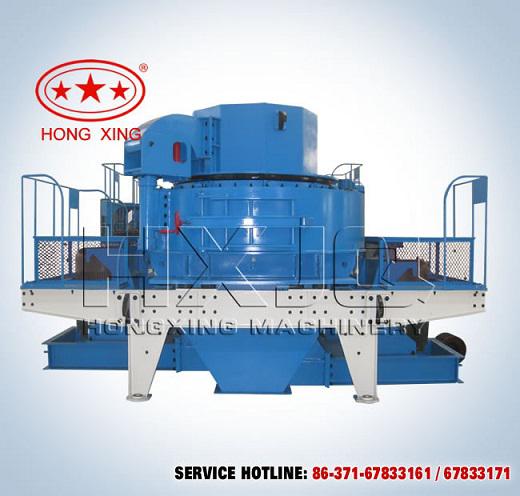 The highway is the infrastructure and premise of forming the industrial area, and the strong and advanced construction technology and the sand making device that is able to produce excellent sand and stone materials with high efficiency are the basic safeguard to build highway. For this reason, for transportation, road-paving and infrastructure construction, the selection of proper sand manufacturing equipment directly determines the quality of the sand and stone and the investment cost.
There are three different sand making ways of the sand maker:
The first one is pressing sand making. Pressing sand making means that the materials are put between the two working faces of the sand maker, and the materials are manufactured to be final product due to the pressure. Large materials often use this sand making method.
The second one is instant impact sand making. The instant impact sand making method makes sand using instant impacting force. The main equipment used is impact crusher or vertical shaft impact crusher. The main features of this sand making method are high sand making efficiency, big sand making ratio and low energy consumption.
The third one is split sand making. The workers put the materials between the flat working fact and the working face with cuspidal edge of the sand making equipment. When the working face with cuspidal edge press the materials, the materials will be split because the pulling stress reaches or exceeds the limit of the tensile strength of the materials. The main equipment used is cone crusher or hammer crusher.
Related Articles:
The Sales of Sand Maker Go up with Scale Development of Mining in West ChinaHongxing Sand Maker Improves Quality and Stands Firm in the MarketCamfrog FAQ about Hongxing sand maker The Production of Sand and Stone by Sand Maker is OverwhelmingSand Maker Brings Good News for Building IndustrySand Maker Decreases the Resource Waste