The Production of Sand and Stone by Sand Maker is Overwhelming
It is obvious to all that the fast development of national economy in recent years, although there are some hindering and negative factors in the development process, we have all overcome them and the modern development pace of our nation is not stopped. In the issues of houses, highway and water conservancy construction, the sand and stone materials attract great concern from the people. In addition, it is known that with the more and more use of natural sand, it is not able to satisfy the development demands of the economy any longer, plus the higher requirement of the quality, artificial sand maker is researched and developed.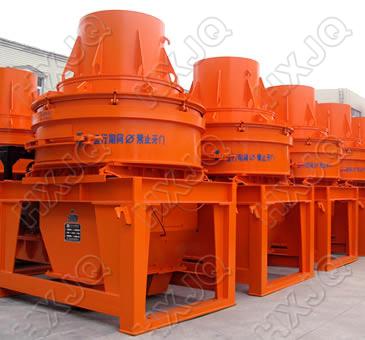 The artificial sand refers to the sand that is manufactured through the process of the crushing machine and sand making equipment. This type of sand can be used to replace the natural sand and it suits more the requirement of building industry. The production of artificial sand can be based on the specific requirement, which is different production requirement and produced to be sand with different shapes and sizes. The use of artificial sand easily solves the problem that people meet in the building industry. Next, the experts of Hongxing Machinery will give a detailed introduction to the indexes of the sand maker.
The working process of the sand maker is divided into primary crushing, secondary crushing and tertiary crushing and the shape and the granularity of the final sand are all important technological indexes to measure the quality of the sand materials. For example, the concrete aggregates not only has requirements for the granularity, but requires that the shape of the material to be cube in order to improve the strength of the concrete. The granularity of the limestone used in steel making should be kept in a certain range and there should be no powders or little powders.
Another thing that needs to paid attention to is that the processing amount of the rock crushing and sand making workshop is the processing amount of every stage of crushing machine, in this way, improving the processing capacity of the crushing machines and reducing the working time of the machine when there is no materials in it are the important methods to reduce the unit energy consumption.
Related Articles:
The Sales of Sand Maker Go up with Scale Development of Mining in West ChinaIntroduction to Three Common Sand Making WaysHongxing Sand Maker Improves Quality and Stands Firm in the MarketCamfrog FAQ about Hongxing sand maker Sand Maker Brings Good News for Building IndustrySand Maker Decreases the Resource Waste