Analysis of Stone Production Line and Corollary Equipment
Henan Hongxing Mining Machinery Co., Ltd is a professional company specializing in manufacturing a complete set of stone product line equipment and is able to provide comprehensive technical support. This production line is mainly composed of vibrating feeding machine, jaw crusher, vibrating screen, impact crusher, belt conveyor and central electronic control. The designed output is 50-500 tons per hour. In order to satisfy the different processing demands of the customers, this production line can be equipped with cone crusher and dust removal equipment.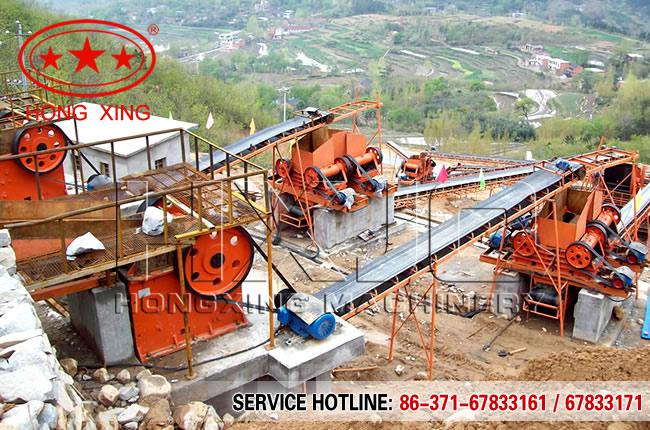 The working process of the stone production line is as follows:
Big size stones are transferred to primary crusher through Vibrating Feeder from hopper for first crushing, and then the crushed materials are transferred to Impact Crusher through Belt Conveyor for secondary crushing. The crushed materials will be transferred to the vibrating screen, and separated to different sizes. Those aggregate with suitable size will be transferred to the final product pile and those with unsuitable size will be transferred to the Impact Crusher for re-crushing. It forms a closed circuit manifold cycles. The sizes of final products will be graded and separated according to customers' requirements, and the deduster will be attached for the sake of environment protection.
This stone production line is a professional equipment line for manufacturing building-used sand and stone materials and it is able to save energy by 50% than the traditional sand maker. This production line is able to crush various kinds of rocks, sand and river cobble into building-used sand with diverse granularities, and the final sand is even in granularity and high in compression strength so that is can better improve the quality of the buildings. This machine has many advantages such as reliable performance, reasonable design, convenient operation and high working efficiency.
Hongxing Machinery has work-class production lines and modern test base and all the products are designed, produced, assembled and tested according to the ISO9001:2000 international quality certification system standard. The crushing equipment and industrial powder grinding machine series of products have been widely used in power station, mining, metallurgy, construction, chemistry, steel and oil and other industries.
Related Articles:
Operation procedure in whole stone production line Hongxing Impact Crusher is First Choice of Stone Production LineMethods of Enhancing Efficiency of Stone Production LineStone Production Line Pushes Ahead Railway ConstructionWhy is Stone Production Line Concerned More and More?Performance and Crushing Circuit of Stone Production Line