Why is Stone Production Line Concerned More and More?
Why is the domestic stone production line drawing more and more attention? In fact, it has much to do with the domestic urbanization process. Along with the urbanization process, the domestic construction industry is vigorously developing. With the development of the construction industry, the building materials market is also developing rapidly. According to the statistics, the concrete is used by more than 90% of the construction industry, which has brought great opportunities for the development of concrete.
What is concrete? It is mainly composed of cement, sand, stone and so on. Bluestone is the primary source of stone and becomes the particle size needed by the construction after being crushed by the crusher. Because the construction industry has strict requirements for the particle size of stone, we must be strict with the output size of the crusher. The stone crusher has many types and categories, such as cone crusher, counterattack crusher, jaw crusher and so on. Because different models have different stone input and output diameter, the stone production line of manufacturing enterprises needs to choose the right type of crusher according to its needs. The quality of the stone crushing equipment (including the crushing machine) is the most crucial step to guarantee the quality of the stone.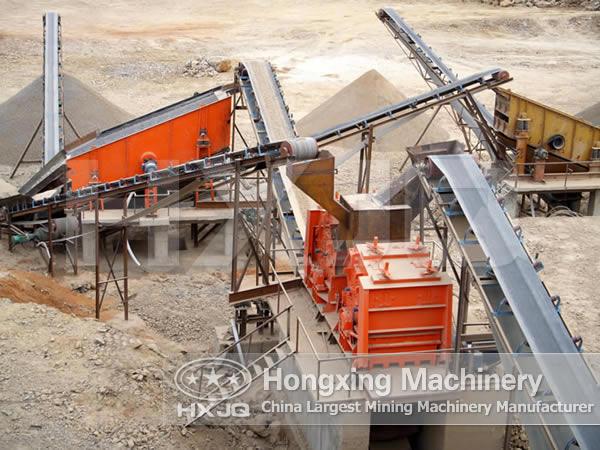 Along with the development of social economy, both the construction industry and enterprise have adopted the production of industrialization, and they have more and more strict requirements with production equipment, such as high automation level, good quality, multiple function and so on. The stone production line frequently appears in the construction industry, and is used in the production of concrete. The production of concrete with high speed, high efficiency and high quality greatly improves the speed of the construction industry and increases the profits. Stone production line is mainly composed of the feeder, jaw crusher, counterattack crusher, vibrating screen, and vertical crusher and so on. At present, the stone production line is divided into gravel production line and sand production line, and the equipment configuration of production line is different according to different classification. Entrepreneurs are paying more and more attention to the stone production line which has been widely used in many industries.
From the above presentation, it can be summarized that the main purpose of stone production line is to provide the building materials for construction industry. The development of construction industry is definitely to increase the attention. Besides, the natural building materials are limited and the excessive exploitation will break the ecological balance. The building materials made by stone make up for the shortage of natural building materials.
Related Articles:
Operation procedure in whole stone production line Hongxing Impact Crusher is First Choice of Stone Production LineMethods of Enhancing Efficiency of Stone Production LineStone Production Line Pushes Ahead Railway ConstructionAnalysis of Stone Production Line and Corollary EquipmentPerformance and Crushing Circuit of Stone Production Line