Performance and Crushing Circuit of Stone Production Line
Stone production line has high automatic degree, low running cost, high crushing ratio, energy conservancy, high output, little pollution and simple and convenient maintenance. The artificial sand produced by this production line conforms to the national building sand standard and has even granularity, good particle shape and reasonable grading. Besides starting and stopping and regularly maintaining the machine, the sand production line and sand making equipment almost do not need manual operation.
In the design of technical process, as the matching of all levels of crushing machines is reasonable and the spatial cross layout is rigorous, it has the features of small coverage area, high investment economic benefits, high stone quality and low rate of stone powders; in the meantime, it is equipped with advanced electronic control operation system, making sure that the whole production line has smooth discharging, stable operation, convenient manipulation and high efficiency and energy conservancy.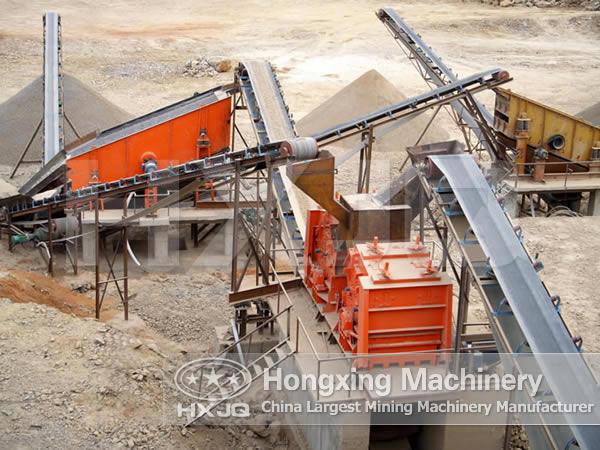 Introduction to the Crushing Circuit of Stone Production Line:
The stone materials are evenly sent by vibrating feeder to jaw crusher for coarse crushing, and the coarsely crushed materials are sent by belt conveyor to sand maker for further crushing. The finely crushed materials are sent by vibrating screen for screening, and the materials that reach the granularity requirement of final products are sent to sand washer for washing and the washed materials are sent by final products conveyor belt to become final products; the materials that do not reach the granularity requirement of the final products are sent by vibrating screen back to sand maker to be processed again, forming closed-circuit cycle. The granularity of the final products can be combined and classified according to the needs of the customers. If dry production technology is used, coarse and fine separator and dust collecting equipment can be equipped.
Henan Hongxing Mining Machinery Co., Ltd. is specialized in manufacturing whole set of sand making production line equipment and can provide comprehensive technical support for you. Powerful technical strength and perfect service system can make sure that the customers can choose and use our machines worry free. According to different technical requirements, the equipment with different models can be combined together to satisfy the specific needs of the customers.
Related Articles:
Operation procedure in whole stone production line Hongxing Impact Crusher is First Choice of Stone Production LineMethods of Enhancing Efficiency of Stone Production LineStone Production Line Pushes Ahead Railway ConstructionAnalysis of Stone Production Line and Corollary EquipmentWhy is Stone Production Line Concerned More and More?