Hongxing Impact Crusher is First Choice of Stone Production Line
Impact crusher is called the indispensable equipment of the stone production line, and it is suitable for crushing many kinds of materials such as basalt, limestone, marble and cobble stone, for this reason, it is widely used in the manufacturing of sand and stone aggregates of the cement plant, steel plant limestone crushing, city infrastructure construction, hard rock crushing project and high-speed railway construction and reorganization and expansion projects.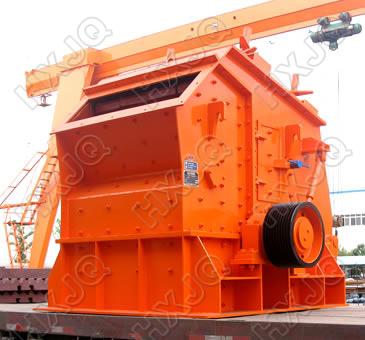 Among other crushing machines, the impact crusher is suitable for not only soft materials, but super hard materials, and what is more, it is able to effectively process materials with high moisture, thus preventing the materials from blocking the crusher. Since 2005, when the government clearly stipulated that the large building project must use stone materials produced by the impact crusher and the building efforts of low-income housing and water conservancy and other infrastructure is becoming bigger, the market demands for sand and stone aggregates increase significantly.
According to the market demands, Hongxing Machinery launched a new type of impact crusher which is suitable for the stone production line. This series of impact crusher is a new generation of impact crusher which is researched and developed and manufactured by absorbing domestic and foreign advanced technology and combining the specific working conditions of domestic sand and stone industry. It has many advantages such as big materials feeding mouth, high crushing chamber and few powders, comprehensive crushing functions, high production capacity and overall interests.
At present, the government gives full support to the construction and development of transportation and other infrastructure, and Hongxing Machinery will grasp the development opportunity and try our best to promote national economic development at the same time of improving the company itself together with other mining machinery manufacturing companies.
Related Articles:
Crucial role of impact crusher in sand production lineInstallation of Main Axis of Centrifugal Impact CrusherThe Selection of Crushing Equipment for Sand and Stone Production LineSand Makers can Process Pebbles High EfficientlySpecial and Distinctive Features of Impact CrusherMaterial Selection of Hammer for Impact Crusher