Superior Performance of Impact Crusher in Stone Crushing
In the stone production line, jaw crusher is often used as the first stage crushing equipment, and for the second stage crushing equipment, cone crusher or impact crusher is often used, but generally speaking, impact crusher has higher application rate since the cost of cone crusher is too much expensive.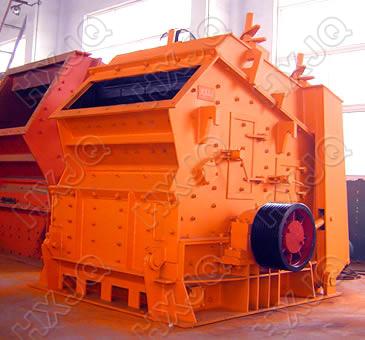 As for the low-cost stone production line, using cone crusher is certainly a big investment, for this reason, it is advisable for the customers to choose impact crusher for the fine crushing of the materials. Next Hongxing Machinery will give a brief introduction to this series of crushing machine:
The impact crusher is widely used in many industrial departments such as building materials, chemistry and coal. It is mainly used for coarse, medium and fine crushing crisp materials with medium hardness. Its advantages are high crushing ratio, simplified crushing flow and structure and easy manufacturing, and convenient use and repair selective crushing.
Working Principle of the Impact Crusher in the Stone Production Line:
When the materials enter the field of the hammer, it is impacted by the hammers, thrown onto the impact plate, and crushed. The stuff springs from the impact plate, is impacted by the hammers again, and thrown onto impact plate. This process will last until the stuff meets the requirement and falls from the machine. Adjusting the distance between impact frame and rotor frame can change the shape and size of the output. When some foreign stuff enters the machine, the impact frame will fallback, the stuff falls from the machine. This device can prevent machine from damages.
Compared with the hammer crusher, the impact crusher is able to more efficiently use the high rate impacting energy, and the materials are affected as a whole and it has bigger crushing chamber.
Related Articles:
Crucial role of impact crusher in sand production lineInstallation of Main Axis of Centrifugal Impact CrusherSand Makers can Process Pebbles High EfficientlySpecial and Distinctive Features of Impact CrusherMaterial Selection of Hammer for Impact CrusherThe Improving and Changing Aspects of Impact Crusher