The Performance Advantages of Hongxing Impact Crusher
Impact crusher is a dedicated machine for manufacturing building sand and it is especially suitable for manufacturing abrasive materials and the fine and medium crushing of refractory, cement, quartz sand, steel sand, slag powder, iron ore, river cobble, concrete aggregate, pitch aggregate and other crisp materials. It is a type of highly efficient and energy saving stone crushing and sand making equipment.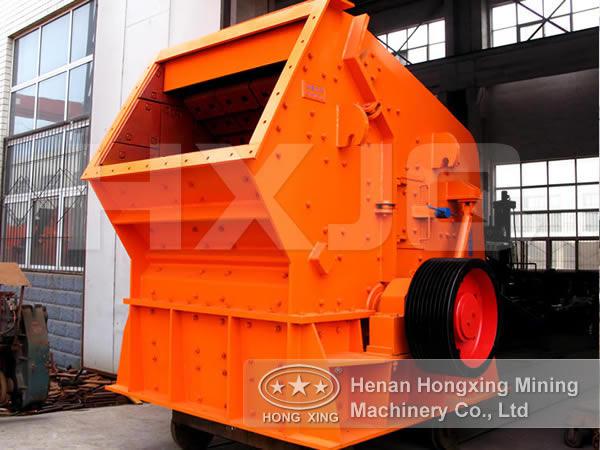 Compared with jaw crusher, cone crusher and roll crusher, impact crusher has many performance advantages lifted as follows:
1. Big crushing ratio.
The crushing ratio of impact crusher can reach over 50, but for jaw crusher, cone crusher and roll crusher, the crushing ratio cannot exceed 20.
2. High quality of the final products.
Under the impacting effect, the materials are often crushed along the most fragile layer, so that the content of the needle-shaped particles in the final products of impact crusher is below 10%.
Although impact crusher has many advantages compared with other crushing machine, it also has its own shortcomings. Since it crushes materials with impacting principle, its impacting parts including hammer, plate hammer and impacting plate are easy to abrade. Such a defect may limit the application ranges of the impact crusher for a long period of time and it can only be used for crushing materials with medium hardness. With the application of new anti-abrasion materials, Hongxing Machinery constantly researches and improves the materials of the spare parts of the impact crusher, and now its service life has been greatly extended, and the production cost of the companies is also reduced.
Related Articles:
Crucial role of impact crusher in sand production lineInstallation of Main Axis of Centrifugal Impact CrusherSand Makers can Process Pebbles High EfficientlySpecial and Distinctive Features of Impact CrusherMaterial Selection of Hammer for Impact CrusherThe Improving and Changing Aspects of Impact Crusher