Building Rubbish Becomes Indispensable with Hongxing Mobile Crusher
At present, the work of recycling and comprehensive utilizing building rubbish in cities should follow the cyclic economy pattern of "reducing, reusing and recycling". The building rubbish equipment should change the traditional linear development of "building raw material-building-building rubbish" to the cyclic pattern of "building raw material-building-building rubbish-renewable raw material" in order to maximize the utilization of the raw materials in the building process and minimize its influences on the natural environment.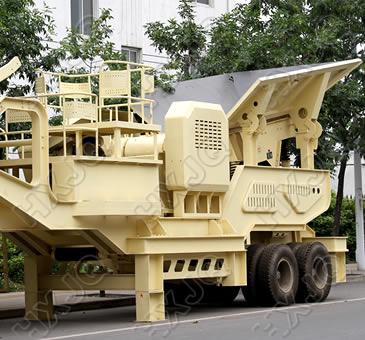 In the coming three years, the rail mileage will remain fast growth, and the investment scale may exceed the plan and the high-speed rail market still has a lot of investment opportunities. Due to the fast development of high-speed rail construction and large and high buildings, natural sand is in short supply, and the strength of artificial sand is superior to natural sand. The construction of high-speed rail cannot do with high-quality stone materials, sand material and sand and stone aggregates. Hongxing mobile stone crusher is not only a mobile crushing station, but a mobile stone crushing production line which is widely used in many industries such as railway, highway, building, water conservancy and metallurgy.
Mobile crusher is especially suitable for processing and crushing building rubbish.Mobile crushing station is divided into coarse crushing, medium crushing and fine crushing and makes it the primary solution that eliminate the barrier brought by the crushing site and environment to the crushing work. It is able to really provide highly efficient and low cost project operation hard facilities and greatly expands the concept of crushing work.
Hongxing mobile stone crusher is flexible and convenient and has high mobility, so that it will save a lot of infrastructure and address removal fees. After being processed by the mobile crushing station, the materials can go into the sand making equipment or directly into the mobile sand maker. The produced artificial sand aggregate can be used as building sand and become indispensable materials in the construction industry.
Related Articles:
Mobile Crusher Contributes to Building Wastes RecyclingCrusher Mobile, Mobile Crushing PlantMobile Crushers Aim to Wipe out Construction WastesHow to Purchase the Most Suitable Mobile Crusher