Mobile Crusher Contributes to Building Wastes Recycling
At present, large quantities of building wastes in our country do not get any treatment and are directly stacked in the open air or buried. In this way, the building wastes not only take up plenty of precious land, cause great damage to the soil, plant and water resources, but cost a large amount of building fees such as land requisition fees and trash cleaning and handling fees. On the other hand, large quantities of building wastes are sent to the household trash treatment plants, which seriously influence the life span of the household trash treatment plants. Because the standard of building the household trash treatment plants is quite strict and the cost for the construction and operation is pretty high, the building wastes that are mixed with the household trash may shorten the service life the treatment plants. In addition, long-time stacking of the building wastes also severely affects our living conditions and the quality of the air.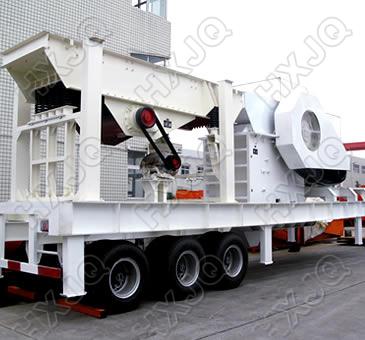 Theoretically, the building wastes have a very high recycled utilization rate and they are renewable resources. After they are separated and crushed, they can be reused as renewable resources. For example, they wastes such as brick, stone and concrete can replace the sand and stone after crushed and can be used as building mortar, plasterer mortar and concrete cushion; the waste metal can be made as metal materials again after gathered and recycled; the waste wood can be used for manufacturing man-made wood. Comprehensively using the building wastes is an effective means of saving resources and protecting the environment. For this reason, in recent years, the construction, building materials production, environmental protection and other relevant industries have begun to recycle the building waste.
Hongxing Machinery is the largest base of manufacturing crushing and screening equipment. The excellent mobile crushing station manufactured by Hongxing Machinery is specially designed for processing the building wastes. It has flexible configuration and can be modified or moved according to the actual working site so that it is very suitable for crushing the building wastes.