Crusher Mobile, Mobile Crushing Plant
Detailed Introduction to Crusher Mobile:
The research, development and launch of crusher mobile eliminate the cockamamie steel frame and the construction of foundation during the crushing process, which helps to save much more time of mining makers. The mobile crusher plant can directly choose the crushing site and it can be directly installed in the crushing spot and there is no need for transportation. For this reason, the mobile crushing plant is peculiarly suitable for small crushing spot and for processing and crushing building wastes.
Picture of Crusher Portable: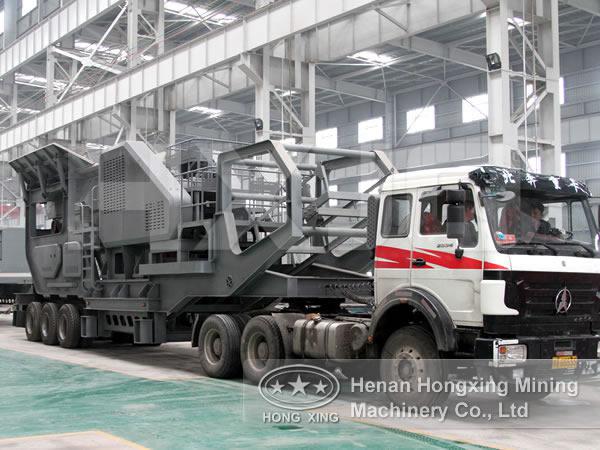 Features and Benefits of Portable Breaker:
The mobile crushing machine has many advantages such as reasonable matching of all levels of crushing equipment, smooth material discharging, reliable operation, convenient manipulation and high efficiency and energy saving. In particular, this portable crushing plant has excellent maneuverability, and it is able to expand together with the raw materials site or the crushing spot, and it can also combine with other mobile crushing and screening plant in order to satisfy different material needs of the customers.
Superior Performance of Hongxing Portable Mining Equipment:
Hongxing portable mining equipment is built around proven jaw crusher concepts. It combines a high reduction ratio and increases the production capacity with any feed materials: from extra hard rock to recycled materials. In addition, Hongxing trucked mobile crusher and tyre mobile crusher offer superior strength, crushing performance and reliability even in the most demanding applications. All the Hongxing People welcome you to come to our company to inspect and purchase the mobile mining plant.