Hongxing Sand Maker Searches Excellence
Under the background of the global economic crisis, all of the countries in the whole world begin their step of domestic economic construction. It is said that China is one of the countries who suffers the least from the global crisis, and on the premise, we should try more to improve ourselves. When the government is boosting domestic demand and accelerating the building pace of national economy, the market has stronger demands for the main equipment producing stone and sand aggregate such as sand maker. With the fact that sand maker is gradually used in various industries and professional sand makers that are designed according to the different conditions of different industries and multifunctional sand makers that can be applied in many industries become hot topic, it has become the top priority for the mining machinery manufacturing companies to research and develop a new type of sand maker with excellent performance and high utilization rate of raw materials.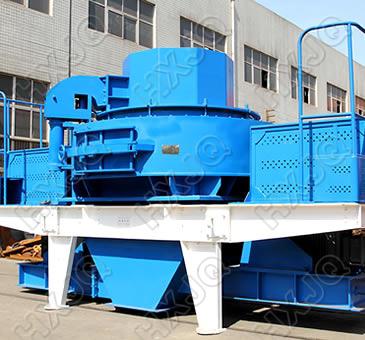 Henan Hongxing Mining Machinery is a famous enterprise in the sand making industry with many years of experience. Last year our company launched vertical shaft sand maker, which puts an end to the backward processing technology relying on hammer crusher and roller crusher and significantly improves the production efficiency of the sand making and stone production line. This machine effectively relieves the influences resulting by the shortage of the sand and stone aggregates on many industries, so that it get wide appraise among the customers. The satisfaction of the customers is the driving force of Hongxing people, so after a short time of enjoyment, Hongxing Machinery continues to devote to the research and development of newer types of products. Keeping up with the time, combining with the needs of the customers and developing the newest sand maker that most suits the customers are the top priority of Hongxing Machinery.
In the coming new year, combined with many years of sand maker designing experience and introducing the advantages of foreign sand maker, Hongxing Machinery developed and designed a new generation of HX07 sand maker. This new sand making machine has many advantages such as small material discharging force, uniform particle granularity, high production capacity, long service life of the hammer, convenient repair and maintenance and strong automatic ability, thus improving the whole technology level of the sand making industry.
Related Articles:
The Sales of Sand Maker Go up with Scale Development of Mining in West ChinaIntroduction to Three Common Sand Making WaysHongxing Sand Maker Improves Quality and Stands Firm in the MarketCamfrog FAQ about Hongxing sand maker The Production of Sand and Stone by Sand Maker is OverwhelmingSand Maker Brings Good News for Building Industry