Impact Crusher is Machine King of Sand Production
As one of the very important crushing equipment, impact crusher is a pretty old machine with many years of history. Its development in China also has decades and its introduction is many years of earlier than that of Barmac sand maker. In the beginning, since we did not have the technology of producing sand maker, we often used impact crusher for processing coarse sand, thus making it the machine king at that time.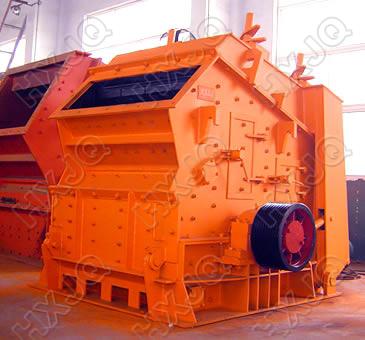 Now, influenced by many new types of crushing equipment, the sales of the industrial impact crusher suffer significant influence. The introduction of vertical shaft impact crusher completely replaces the original sand making methods since it highly-efficiently uses the crushing principle of stone impacting stone and iron impacting iron, and significantly improves the production efficiency. The fineness range of the sand produced is ensured so that it becomes the most competitive sand making machine. For this reason, the impact crusher does not have advantages in the application of sand making, and it can only be used in second crushing at most.
Consequently, the function of the impact crusher is gradually positioned as equipment for producing building materials and second crushing. However, the impact crusher also suffers the impact of fine jaw crusher and cone crusher. The fine jaw crusher does not have great impact on this machine, but the impact of cone crusher can never neglected. Cone crusher was only used mining crusher, but now it also has wide application in sand and stone crushing. The hydraulic cone crusher is stable in operation and high in production capacity, and it has hydraulic protection and cabin cleaning device, so that it is really a powerful opponent of impact crusher.
However, impact crusher is still a hot selling product since when it is used for producing stone materials, only a small amount of needle materials are produced. But this materials produced by cone crusher are a lot. Highway has high standard requirement for stone materials which are different from common stone materials, so impact crusher is often used as the specified stone material production equipment for highway.
Related Articles:
Crucial role of impact crusher in sand production lineInstallation of Main Axis of Centrifugal Impact CrusherSand Makers can Process Pebbles High EfficientlySpecial and Distinctive Features of Impact CrusherMaterial Selection of Hammer for Impact CrusherThe Improving and Changing Aspects of Impact Crusher