The Comprehensive Function of Mining Vibrating Screen
Vibrating is one basic type of the natural material sports, and the vibrating theory has been achieved the big progress on the field of the mechanical project. Vibrating cannot be existing just by one single style with the noise any more in the daily life and the practical production as the negative role, on the contrary, with the deep understanding of the research on the vibrating usage, vibrating is been regarding as the useful element, which can benefit for the human beings. The useful usage of the vibrating is gradually increasing with the progress of the scientific research and production.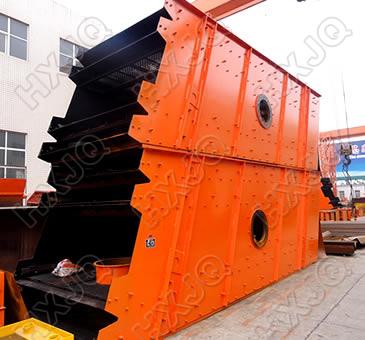 The speed of our national industrious development is faster than the other countries, and the big size mining project is also becoming more and more at the same time, that is the reason why the demanding for the mechanical screening becomes more and more rapid. At the same time, the screening efficiency and the right ratio are been improving gradually, especially for the heavy handling. Something that we said above on can provide the many chances for the screening mechanism and also supply much more challenges at the same time. So the automation, big size and energy saving of the mechanism have become the most important course in the future.
The 2YAC2460 heavy vibrating screen made by Hongxing has been advertised in the modern market, which is researched by the mining experts on the basis of the information coming from so many countries, which is mainly used in the industries such as coal, metallurgy, power, building material, water station, and chemical industry, especially for the handling on the process of coal, mineral material and slag. To choose one mining machine made by Hongxing will not let you down.
Related Articles:
The Researching Meaning of the National Vibrating ScreenSeveral Revolutions of Domestic Vibrating ScreensSand Making Machinery, Sand Making Machines Vibration Sieve,Vibrating Screens Reason Analysis about the Fail Start of Vibrating ScreenDaily Maintenance and Overhaul of Vibrating Screen