Four Major Taboos during the Operation Process of Sand Maker
During the operation process, every equipment has its own taboos. If the workers do not operate the equipment according to the correct running methods, unnecessary trouble would be brought, and more importantly, sometimes the workers' life may be threatened. For this reason, no matter what kind of equipment we are running, we should first learn the basic operational method, so it is as for the sand making equipment. Next the experts of Hongxing Machinery will introduce the four major taboos during the operational process of sand maker.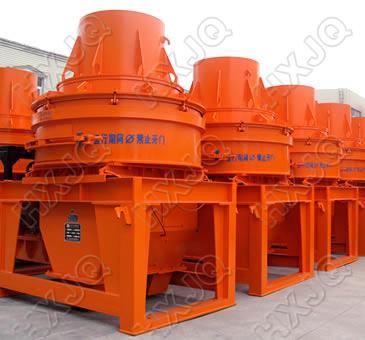 1. Prohibit operation without watching the instruction.
After the equipment is bought, the workers should carefully read through the relevant using instruction materials of sand maker in order to learn the using and maintenance condition of the machine, and the workers must not operate the machine while not familiar to it in order to prevent from unnecessary accidents. Even the experienced workers should read the instructions. After all now the science and technology is updating fast, and not all of the equipment manufactured by companies is the same.
2. Prohibit use of unqualified power.
While and after putting the electrode, the workers should pay attention to the quality of the electrode, and try not to move the electrode or the electromotor, and at the same time, take effective measures to prevent the electrode from soft fault.
3. Prohibit running the equipment with materials in it.
Before the sand maker works, the workers should first check whether there is ore, rocks or iron in it. The sand maker is not allowed to be started with workload, or the electric motor may trip and the spare parts of the machine may be damaged.
4. Prohibit turning-on power when the machine is off work.
During the working process of the machine, the power should be ensured be sufficient. If the power suddenly fails, the workers should first cut off the power of the sand making machine in order to prevent unnecessary damage to the machine.
Related Articles:
The Sales of Sand Maker Go up with Scale Development of Mining in West ChinaIntroduction to Three Common Sand Making WaysHongxing Sand Maker Improves Quality and Stands Firm in the MarketCamfrog FAQ about Hongxing sand maker The Production of Sand and Stone by Sand Maker is OverwhelmingSand Maker Brings Good News for Building Industry