History and Working Method of Magnetic Separation
Magnetic separating method has been used as a mineral separating way in the ore beneficiation process about two thousand years ago, but until today the magnetic separator does not has the ability to classify the minerals in a magnetic way. As a matter of fact, the majority of the magnetic separating machine can only separate three kinds of products: magnetic product, middling product and the tailings. Although some typical magnetic separating systems which are used for classifying the magnetic particles have been researched and developed, these magnetic classifying tasks are achieved through combining the simple magnetic separating machines. During the past decades, only a few researchers developed the magnetic separating equipment with high selectivity.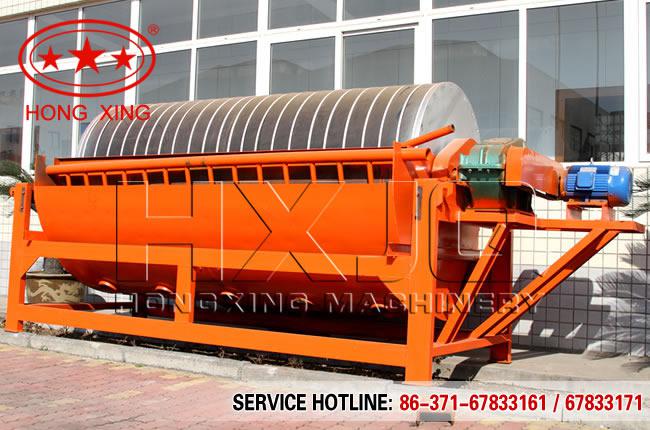 It is only the radial direction forces that are effective for the effective work of the drum magnetic separator since this force adsorbs the particles on the drum surface. Once the particles are absorbed onto the drum surface, with the friction force of the drum surface, the particles will be sent to the discharging mouth along the tangential direction and become the magnetic products. The tangential component force of the magnetic force will interfere in the stable movement of the particles to the ore discharging mouth, for this reason, it is very important to decrease the radial magnetic strength and keep the magnetic fields around the drum uniform. The rocks that will be separated go into the separating space of the separating equipment and then will be influenced by the magnetic forces and the mechanical forces including the gravity, centrifugal force and the flow force.
The ore particles with different magnetism will be influenced by different magnetic forces and move along with different paths. As a result, magnetic products and non-magnetic products can be gained. In order to make sure that the ore particles with strong magnetism and weak magnetism can be separated, the following condition must be satisfied: f1 magnetism ∑f machine f2 magnetism.
Related Articles:
Necessity of Reforming Traditional Drum Magnetic SeparatorFactors Restricting the Performance of Magnetic SeparatorEnergy Saving Effect of High Gradient Magnetic Separator Gains RecognitionDifferent Types of Magnetic Separator Machine