CONTACT US
Tel: +86-371-67833171
E-mail: customer@hxjq.com
MSN: hxjq@hxjq.com
Yahoo Messager: hxjqchina@yahoo.com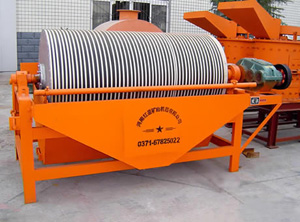 Hot Sale Magnetic Separator
Magnetic separators are often used for industrial purposes such as recycling and manufacturing. They are also found in scientific laboratories requiring metallic materials that are free of impurities (often the case in chemistry). In this case, the magnetic separator is usually a cylinder or flask that prevents cross-contamination between two different substances by forcing either all or some of the magnetic materials from one substance into a separate container.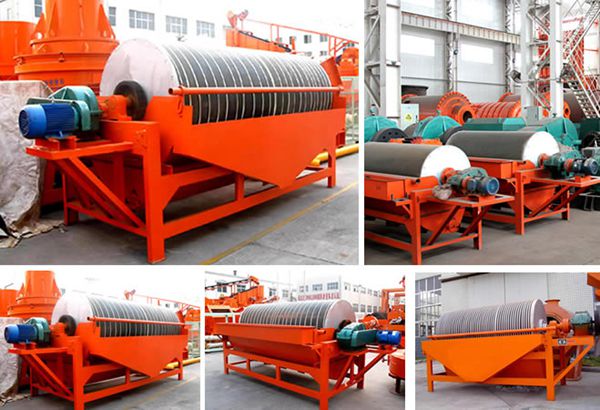 Magnetic Drum Separator
Magnetic drum separator provide an efficient means for extracting ferrous material from dry, bulk products in free-flowing processing systems.
They consist of a stationary permanent magnet, either standard Ferrite Magnets or High Power Rare Earth Magnets enclosed in a non-magnetic stainless-steel drum. Product flow is diverted so that it falls onto the top and flows across the surface of the drum. Ferrous matter contained in the product flow is drawn to the drum's surface (and held against it) by the powerful magnet housed inside.
Drum separator can be provided as the drum only or as a complete assembly with the housing and drive included. A variety of sizes and strengths are available for many applications.
Advantages of Magnetic Separator
1. The coarse separation of the lean iron ore after coarse crushing or medium crushing eliminates the barren rocks such as surrounding rock, improves the taste of the iron ore and eases the load of the next procedure.
2. Magnetic separator can be used in the closed circuit firing work for restoring the hematite, and it can separate the rawore that are not fully restored and return it for firing again.
3. In the ceramic industry, magnetic separator can remove the iron mixed in the petuntse and improve the quality of the ceramic product.
4. Magnetic separator can also be used in coal firing, sand making, refractory and other industries that need deironing.
As a famous and professional manufacturer of whole sets of mining machinery in China, as for magnetic separator, we produce wet magnetic separator, magnetic drum separator and other types. All of our products are popularized and welcomed at home and abroad.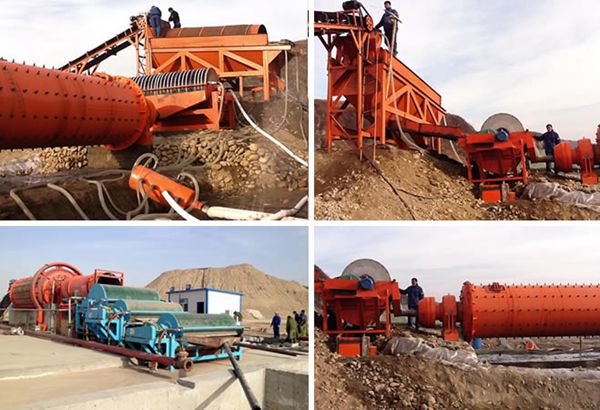 Working Principle of Magnetic Separator Machine
After the pulp enters the tub through the feeding box, mineral grains enter into feeding area of tub at a state of un-consolidation under the action of the water flow of feeding sprinkler pipe. Under the action of the magnetic field, the magnetic mineral grains get together and 'magnetic group' or 'magnetic chain' comes into being. 'Magnetic group' or 'magnetic chain' moves to magnetic poles and is adsorbed in the cylinder under the influence of magnetic in the pulp. The polarity of the cylinder poles arranges alternately along the direction of rotation and it is changeless when working. When 'magnetic group' or 'magnetic chain' rotates with the cylinder, matrix and other non-magnetic minerals which are mingled in the 'magnetic group' or 'magnetic chain' fall out in the flipping because of magnetic phenomenon, and they are eventually suck on the cylinder surface of the 'magnetic group' or 'magnetic Ephraim'.
Model

Shell diameter

(mm)

Shell lenght

(mm)

Shell rotation

speed(r/min)

Feeding size

(mm)

Processing capacoty

(t/h)

Power(kw)
CTB6012
600
1200
<35
2-0
10-20
1.5
CTB6018
600
1800
<35
2-0
15-30
2.2
CTB7518
750
1800
<35
2-0
20-45
2.2
CTB9018
900
1800
<35
3-0
40-60
3
CTB9021
900
2100
<35
3-0
45-60
3
CTB9024
900
2400
<28
3-0
45-70
4
CTB1018
1050
1800
<20
3-0
50-75
5.5
CTB1021
1050
2100
<20
3-0
50-100
5.5
CTB1024
1050
2400
<20
3-0
60-120
5.5
CTB1218
1200
1800
<18
3-0
80-140
5.5
CTB1224
1200
2400
<18
3-0
85-180
7.5
CTB1230
1200
3000
<18
3-0
100-180
7.5
CTB1530
1500
3000
<14
3-0
170-280
11

Note: If you're interested in the product, please submit your requirements and contacts and then we will contact you in two days. We promise that all your informations won't be leaked to anyone.