Cone-type Sand Maker Contributes much to Infrastructure Construction
At present, with the fast development of infrastructure construction, the demands for natural sand in the market are constantly increasing. However, the natural sand is not necessarily able to satisfy the construction needs, and at this time, the sand maker equipment is researched and developed in time, and the artificial sand produced by this machine is able to perfectly replace the natural sand.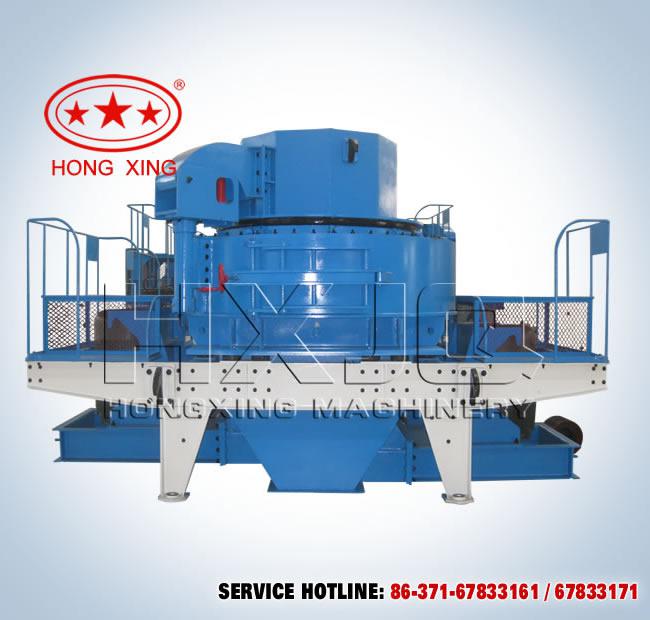 The cone-type sand maker researched and developed by our company has outstanding sand making effects. Since the quality of the sand and stone is high and the fine sand manufactured by this machine has very wide application range, this equipment enjoys great popularity in the market. The cone-type sand maker manufactured by Hongxing Machinery is distinguished from that of other companies due to its unique structural design and the technology we use has been granted national patent certificate.
Regarding the design, the cone-type sand maker adopts a upper and a lower machine frame in order to buffer the impact on the spare parts of the machine from the materials and to protect the machine from being damaged, thus prolonging its service life. On the other hand, the unique upper and lower structure is able to make sure that the sand maker can work in a stable manner during the sand making process even with high workload. And what is more, if the workers feed too many materials so that the machine is blocked, then the workers can open the upper cover and discharge the materials at any time so that the machine is able to run very fast. And finally the maintenance is more convenient.
Related Articles:
The Sales of Sand Maker Go up with Scale Development of Mining in West ChinaIntroduction to Three Common Sand Making WaysHongxing Sand Maker Improves Quality and Stands Firm in the MarketCamfrog FAQ about Hongxing sand maker The Production of Sand and Stone by Sand Maker is OverwhelmingSand Maker Brings Good News for Building Industry