Ways to Prolong the Life of Impact Crusher
In the sand making production line, the impact crusher is in the third step. After being crushed by the jaw crusher, the materials are put into the impact crusher to be crushed to the particles of 20mm to 60mm. The impact crusher is a machine that uses the impact force to realize crushing. To ensure constant working in the sand making product line and prolong the service life of the impact crusher, some maintenance work must be added for the impact crusher. After put into use, the new machine should be checked from all aspects. The engine and the lubrication must be checked each week, including the fixing situation, belt conveying, bearing sealing, impact plate and the abrasion of the lining plate. The regular maintenance and changing institution should be established according to the maintenance cycle.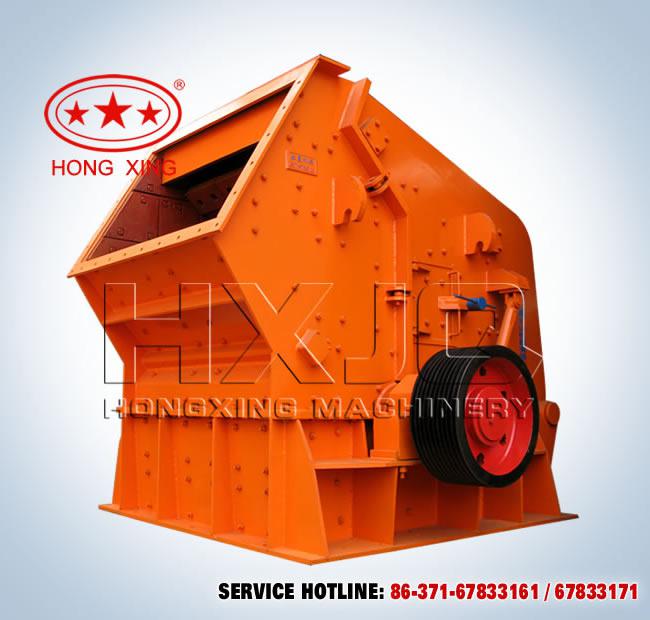 Adjustment of the gap between the rotor and the impact plate of impact crusher
The gap between the rotors and the impact plate cannot be adjusted when the rotors of the impact crusher are working. If the materials of lumps are stuck between the impact plate and the huller, the impact frame can be uplifted. Thus, the materials will fluff. If the impact frame is not loose enough, we can pat the draw bar slightly to adjust the gap.
Replacement of quick-wearing part of impact crusher
When we replace the quick-wearing part of the impact crusher, the first step is to open the back grounding. During the working process, uninstall the bolts connecting the back grounding and the middle box first, then screw the renovating device to the hexagon head part by using the wrench, and open the grounding slowly. At the same time, the back frame can be hung by the hanging device above the rack. Repeat the foregoing steps and close the back grounding.
1. The flat hammer of the impact crusher: the flat hammer must be adjusted and changed timely in order to avoid the abrasion with other components.
2. The plate of the impact crusher: after opening the back loam cake, removing the cotter, nuts and bolts fixed on the impact plate, and changing the worn impact plate. If the impact plate needs to be renewed, reverse the above steps.
Temperature of bearings of impact crusher
1. The lubricating grease is overabundant or insufficient: check the quantity of the lubricating grease.
2. The lubricating grease is sullied: wash the bearings and change the lubricating grease.
3. The bearings are broken: change the bearings.
The impact crusher has been playing an important role in the sand making product line. During the using process, the maintenance and service must be made to avoid the problems from the beginning. Otherwise, the loss may be out of control.
Related Articles:
Crucial role of impact crusher in sand production lineInstallation of Main Axis of Centrifugal Impact CrusherSand Makers can Process Pebbles High EfficientlySpecial and Distinctive Features of Impact CrusherMaterial Selection of Hammer for Impact CrusherThe Improving and Changing Aspects of Impact Crusher