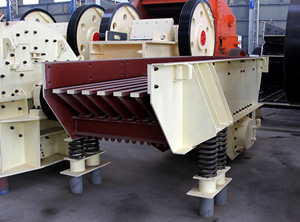 Feeding Machine -- Vibrating Feeder
This Hongxing ore vibrating feeder is manufactured on the theory of vibration, which is widely used in mining, construction materials, silicate and chemical industry. The vibrating feeder can provide ores and rocks within 500mm for the next working procedure.
Vibrating feeder can continuously and evenly send materials to crusher and roughly screen them. It matches crushing and screening machines in many areas such as metallurgical industry, coal mining, mining-selecting, building, chemical and grinding industry, etc.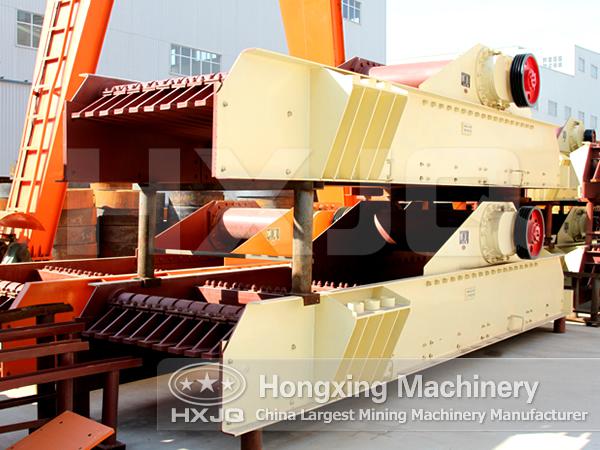 Structure Characteristics Of Feed Grizzly
The series of vibrating feeder consists of vibrating frame, spring, vibrator, motor vibrating device and motor. The vibrator is made of two fixed eccentric shafts whose gears are jogged. In installation, the two gears must be jogged according to the sign. Through drive of the motor, the two eccentric shafts start rotating to produce a linear huge power which forces the feeder to vibrate. Through the vibration, the materials will slip and sling on the funnel, moving forward, and when the materials pass the screening part, smaller parts will fall down, avoiding the further crushing, so screening purpose can be reached.
Features and Benefits Of Vibratory Feeder
Vibratory feeder has stable vibration, reliable working and long service life. The exciting force can be adjusted to change and control the material flow and the adjustment is convenient and stable. The vibration motor is the vibration source, so that the noise is low, electricity consumption is small and the adjusting performance is good without material clashing. It has the advantages of simple structure, reliable operation, convenient adjustment and installation, light weight and small size and convenient maintenance and repair. Adopting sealed structure, powder dust pollution can be avoided.
Working Principle Of Vibrating Feeder
The vibrating feeder is composed of feeding cavity, vibration generator, and support spring and transmission device. The vibration source of the vibration case is the vibration generator, which is composed of two eccentric drafts both active and passive and gears. Active draft will be driven by belt and gears on the active draft will joggle the passive draft to rotate, thus the two drafts will rotate simultaneously and reversely to make the bank vibrate and materials transferred continuously to fulfill the purpose of material transferring.
Special Recommendation For Clients
Henan Hongxing Mining Machinery Co., Ltd. is considered as a specialist in the market of China vibratory feeder. For example, the electromagnetic vibratory feeder is fitted with a tray made of mild steel and a body housing the electromagnet. The tray which is linked to the armature of the magnet vibrates as the magnet gets energized. The vibration sets the material in motion. We offer this vibratory feeder at industry leading prices to gain optimum client satisfaction.
Model
Max.
Feeding
Size
(mm)
Processing
Capacity
(t/h)
Motor
Power
(kw)
Obliquity
of material
trough
(°)
Trough
size
(mm)
Dimensions
(L×W×H)(mm)
GZD-650×2300
300
80-100
1.2×2
10-20
650×2300
2300×1360×780
GZD-750×2500
350
100-130
1.5×2
10-20
750×2500
2500×1460×780
GZD-850×3000
400
120-150
3×2
10-20
850×3000
3110×1800×1600
GZD-1000×3600
500
150-200
3.7×2
10-20
1000×3600
3850×1950×1630
GZD-1100×3600
580
240-300
3.7×2
10-20
1100×3600
3600×2050×1660
GZD-1300×3600
650
450-600
7.5×2
10-20
1300×3600
3900×2350×1750
GZD-1500×3600
1050
450-1000
7.5×2
10-20
1500×3600
3900×2000×1750
GZD-2000×3600
1200
550-1000
10×2
10-20
2000×3600
3600×2000×1750
GZD-2500×5000
1500
650-1500
18×2
10-20
2500×5000
5000×2500×1800
ZSW-380×95
500
100-180
11
0-10
3800×960
3920×1640×1320
ZSW-490×110
630
150-400
15
0-10
4900×1100
4980×1830×1320
ZSW-490×130
750
400-700
22
0-10
4900×1300
4980×2580×2083
ZSW-600×130
750
400-700
22
0-10
6000×1300
6082×2580×2083
ZSW-600×150
800
500-900
30
0-10
6000×1300
6086×2662×1912
ZSW-600×180
900
700-1300
45
0-10
6000×1500
6310×3262×2230
ZSW-600×200
1200
800-1500
55
0-10
6000×2000
6310×3462×2230