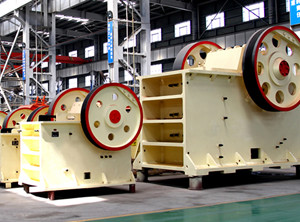 Brief Description Of Stone Crusher
As one of the main machines in stone crusher plant, jaw crusher is ideally suitable for crushing all kinds of ores and any big size material.For this kind of stone crusher, the highest anti-pressure strength of crushed material is 320 MPA. We produce various types of rock crusher like mobile jaw crushers and single toggle jaw crusher which all serve as primary jaw crusher,etc. The stone jaw crusher is widely used for crushing various materials like stone, granite, trap rock, coke, coal, manganese ore, iron ore, emery, fused aluminum, oxide, fused calcium carbide, lime stone, quartzite, alloys, etc. These crushers are recommended by leading consultants in this field and are used by hundreds of customers all over the world.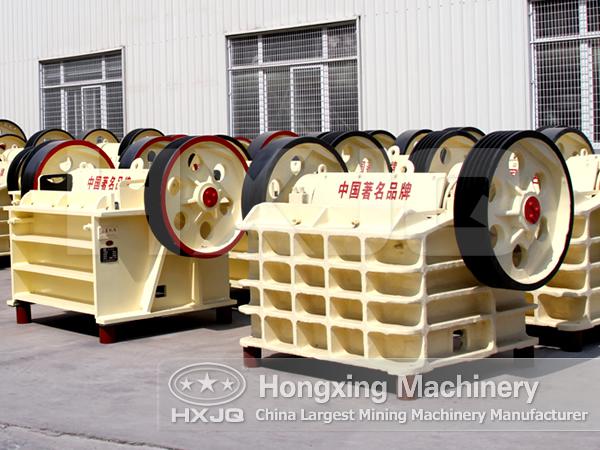 Working Principle Of Stone Crusher Plant
The motor transmits power through belt, drives the moving jaw to do periodic motion to the fixed jaw surrounding the eccentric shaft. The angle between toggle plate and moving jaw increases when moving jaw moves up. So the moving jaw becomes close to the fixed jaw. The stuff will be crushed in this process. The angle between toggle plate and moving jaw decreases when moving jaw moves down; the moving jaw moves away from fixed jaw by the pulling of rod and spring, and the products such as stone after crushing will be discharged from the outlet.
The Largest Manufacturer Of China Stone Jaw Crusher-Hongxing Machinery
Hongxing Machinery is a trusted and reliable brand for its high quality and good manufacturing of China jaw crusher. It specializes in producing stone crusher which is widely used in mining, quarry, material handling. Our company has been a manufacturer and exporter of stone jaw crushers for decades.
Every feature of these machines has been carefully designed to provide superior quality and performance. Our jaw crushers have been sold all over the world with favorable price. As a responsible enterprise, we always stick to be your satisfying partner.
Model

Feed opening
(mm)

Max.feeding size
(mm)

Adjusting range of discharge opening
(mm)

Processing capacity
(t/h)

Rotation speed of eccentric shaft
(r/min)

Motor power
(kw)

Total weight
(t)

Dimensions
(L×W×H)
(mm)

PE-150×250
150×250
125
10-40
1-3
250
4P 5.5
0.8
720×660×850
PE-200×300
200×300
180
15-50
2-6
260
4P 7.5
1.2
910×750×990
PE-200×350
200×350
180
18-70
3-10
260
4P 11
1.5
1000×870×990
PE-250×400
250×400
210
20-60
5-21
300
6P 15
2.8
1300×1090×1270
PE-400×600
400×600
340
40-100
16-64
275
6P 30
7
1730×1730×1630
PE-500×750
500×750
425
50-100
40-110
275
6P 55
12
1980×2080×1870
PE-600×750
600×750
500
150-200
80-240
275
6P 55
15.8
2070×2000×1920
PE-600×900
600×900
500
65-160
50-160
250
6P 55
17
2190×2206×2300
PE-750×1060
750×1060
630
80-140
110-320
250
8P 110
29
2660×2430×2800
PE-800×1060
800×1060
640
130-190
130-330
250
8P 110
29.8
2710×2430×2800
PE-830×1060
830×1060
650
160-220
150-336
250
8P 110
30.7
2740×2430×2800
PE-870×1060
870×1060
660
200-260
190-336
250
8P 110
31.5
2810×2430×2800
PE-900×1060
900×1060
685
230-290
230-390
250
8P 110
33
2870×2420×2940
PE-900×1200
900×1200
750
95-165
220-380
200
8P 110
52
3380×2870×3330
PE-1000×1200
1000×1200
850
195-265
315-500
200
8P 110
55
3480×2876×3330
PE-1200×1500
1200×1500
1020
150-350
400-800
180
6P 160-220
100.9
4200×3300×3500
PE-1500×1800
1500×1800
1200
220-350
500-1000
180
8P 280-355
139
5160×3660×4248
PEX-150×750
150×750
120
18-48
8-25
320
4P 15
3.8
1200×1530×1060
PEX-250×750
250×750
210
25-60
13-35
330
6P 22
5.5
1380×1750×1540
PEX-250×1000
250×1000
210
25-60
16-52
330
6P 30
7
1560×1950×1390
PEX-250×1200
250×1200
210
25-60
20-61
330
6P 37
9.7
2140×1660×1500
PEX-300×1300
300×1300
250
20-90
16-105
300
6P 55
15.6
2720×1950×1600