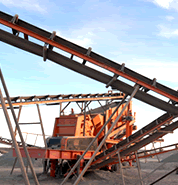 Belt Conveyor
Description Of Belt Conveyor
Belt conveyor (Belt conveyer) is the materiel transporting machine which transports the materiels in a certain line. Conveyor belt also can be named continuous conveyor. The belt conveyor can carry horizontal, oblique and vertical transporting and also can be composed into a space conveying line. This conveying line generally is fixed. The belt conveyor's conveying ability is big and conveying distance is long. Belt conveyor also can complete several technological operations in the conveying process, so it is widely used in all kinds of industry.
The conveyor mainly has the following types: belt conveyor, plate conveyor, scraper conveyor, bucket conveyor, overhead chain conveyor, etc.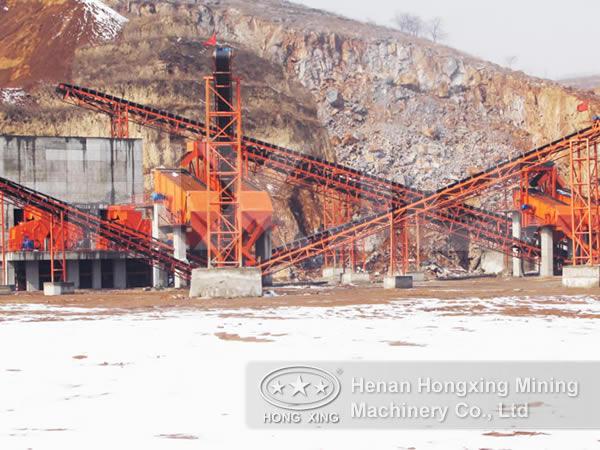 Lists of the Types Of Conveyor Belt
The belt consists of one or more layers of material. Many belts in general material handling have two layers. An under layer of material to provide linear strength is called a carcass and an upper layer the cover. The carcass is often a cotton or plastic web or mesh. The cover is often various rubber or plastic compounds specified by use of the belt. Covers can be made from more exotic materials for unusual applications such as silicone for heat or gum rubber when traction is essential.
Some Tips On Belt Protection
Belt protection against overload and stalling is commonly done by a centrifugal switch driven by a roller on the underside of the belt. This, however, is not very sensitive, and more sophisticated methods are now used.
One method consists of fitting a pulse generator to the drive gearbox low speed shaft and similar pulse generator to a roller driven by the belt. The belt will be stopped once the alarm is given because of the monitoring unit which is not in one ordinary status. On start up, belt slip can be kept to a minimum by using the monitoring unit to control the start up on slipping motors. The monitoring unit can control the rotor resistance, which is the starting torque. Alternatively, the 'fill' of a variable fill fluid coupling can be controlled by the comparator.
Characteristics Of Convery Belt
The convery belt produced by our company can economically and effectively convey all kinds of materials. In the industrial production, the belt conveyor is the bond for continuous production between the production mechanical machines to realize the continuity and automation of the production link and improve the production efficiency and reduce labor intensity.
The belt conveyor moves according to the friction drive principle and its conveying amount is big, conveying distance is long and conveyance is stable, and there is no relative movement between the materials and the belt. With the advantages of low noise, simple structure, convenient maintenance and standard spared parts, it is widely used in the conveyance of bulk materials or piece articles and the production line in mine, metallurgy, chemistry, casting and building material industry and the production departments such as hydropower station construction site and port.
According to the conveying requirement, one belt conveyor can convey materials independently or several belt conveyors form or with other conveying machines form a horizontal or tilted conveying system. This series of conveying equipment can be used in the temperature ranges of -20℃~+40℃ and the temperature of the materials to be conveyed should be below 50℃.
Simple Working Principle Of Conveyor Belt
Many conveyor belts work on the principle of variable speed control. If a particular belt moves too slowly, workers may find themselves waiting for parts. If a conveyor belt moves too quickly, parts may be damaged or workers may become overwhelmed. Much of a factory supervisor's time is spent in adjusting conveyor belts for maximum efficiency.
Belt width(mm)
Conveying length(m)
Power(kw)
Conveying speed(m/s)
Conveying amount(t/h)

400

1.3-1.6

30-60

500

1.3-1.6

60-80

650

1.3-1.6

80-120

800

1.3-1.6

120-200

1000

1.3-2.0

200-320

1200

1.3-2.0

320-480

1400

1.3-2.0

588-1427

1600

1.3-2.0

700-1850

Note: If you're interested in the product, please submit your requirements and contacts and then we will contact you in two days. We promise that all your informations won't be leaked to anyone.