Large Scale Is the Way to Reduce Cost for Mining Industry
Efficiency is the life of enterprises, and the cost is the bottom line of companies. Industrial production needs to balance cost and efficiency, so rational allocation of machinery and equipment with different characteristics is the basis for efficient operation. As we all know, mobile crushing plant has been received by majority with its flexibility and easy to make up a production line, but was not so good for very specialized large scale mine.
Hongxing Machinery believes that professional mines crush a huge amount of stone, and crushing equipment will not be moved for a few years, so mobile crusher is needn't. In addition, since movable feature is useless, large breaker or crusher is ideal choice. Meanwhile, larger equipment allows larger feeding size, which reduces anticipated workload before crushing work, and greatly improves the productivity.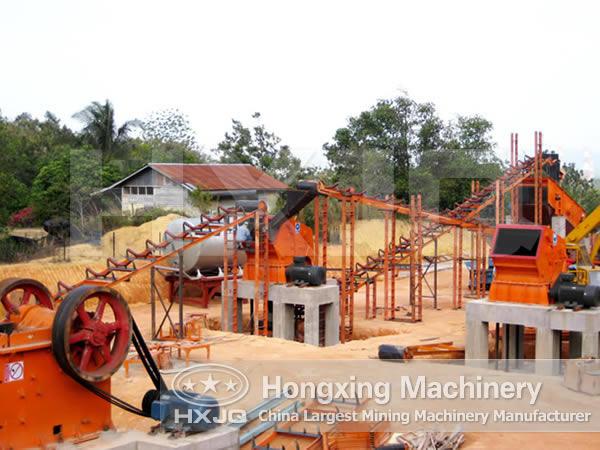 1. Automation: Increasing automation level of equipment can further improve the efficiency, reduce labor costs, manipulate to dozens of devices for two or three persons, so as to achieve a 24-hour operation.
2. Green and environmental protection: Hongxing mining machinery designs under the principles of low energy consumption and low weight, uses materials with low environmental pollution in the actual production, parts are easy to collapse, easy to crush.
3. Optimized design and improved scientific and technological content: advanced technology should be applied in the design of processing mining equipment, such as, electrical control technology and computer technology, to make the device run smoothly by optimizing the design, precision process, simple operation, low noise, etc.
4. Strong adaptability: The steel slag, clinker, quartzite, fluorite and other super hard materials are capable of processing by Hongxing mining machinery, and urban construction waste disposal also should be taken into account.
Related Articles:
Roll Crusher with High Potentials in Mining IndustryThe Increasing Demand for Mining Industry Opens the Developing Door Impacts of Slow Development of Mining Industry on Machine IndustryThe Development of Domestic Mining Industry is filled with Challenges