Conveyor Belt, Vibrating Feeder
Application Ranges of Conveyor Belt
Conveyor belt is also called belt conveyor. The conveyor belt produced by our company has the advantages of big conveying quantity, simple structure, convenient maintenance and repair and standard spare parts, so that it is widely used for conveying bulk materials and piece articles in mining, metallurgy and coal and other industrial departments. According to different production requirement, it can convey materials independently, or several conveyor belts form or with other conveying machines form a horizontal or slant conveying system to satisfy the working needs of different configuration patterns.
This conveyor belt can be used in the environment where the temperature is -20℃~+40℃, and the temperature of the materials to be conveyed should be below 50℃.
Brief Introduction to Vibrating Feeder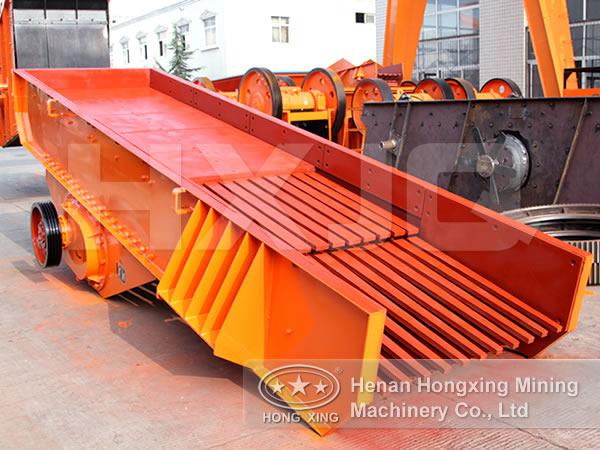 During the production flow of vibrating feeder, it is able to feed the large and particle materials from the material cabin to the material receiving device in an even, regular and continuous manner. In the sand and stone production line, this machine can feed materials to the crushing equipment in a even and continuous way and also primarily screen the materials, for this reason, it is widely used in the crushing and screening combination plant in the industries of metallurgy, coal, ore beneficiation, building material, chemistry and material grinding.
Performance Characteristics of Vibrating Feeder
(1) Stable vibration, reliable work, long service life;
(2) The exciting force can be adjusted to change and control the material flow at any time and the adjustment is convenient and stable;
(3) The vibration motor is the exciting source, so that the noise and electricity consumption are low, and the adjustment performance is excellent;
(4) Simple structure, convenient adjustment and installation, light weight and small size and convenient repair and maintenance;
(5) The closed structure can prevent dust pollution.
Related Articles:
How to Build High-end Vibrating FeederConveyor BeltFeeder MachineThe Application of Vibrating Feeder Improves the Working Efficiency