Feeder Machine
Overview of Feeder Machine:
From the name of the feeder machine, we can see that it is used for feeding materials to other mining equipment. During the production process, it is able to send the massive or granulate materials from the storage bin to the material receiving device in an even, regular and continuous manner. This feeder machine has many advantages such as reliable working condition, long service life, adjustable exciting force and controllable flow and convenient and stable adjustment.
Picture of Feeder Machine: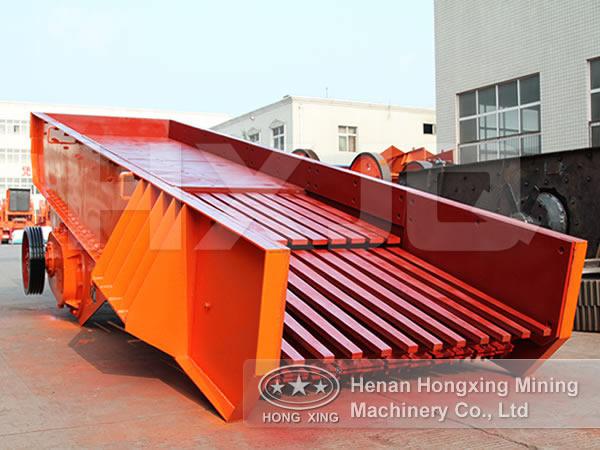 Classifications of Feeder Machine:
According to its structure and application, the feeder machine can be classified into several types. For example, the newly researched and developed feeder machine by Hongxing Machinery has the ability to vibrate, and it can also be called vibration feeder, shaker feeder or grizzly feeder. In addition, pendulum feeder now also has wide application in the mining process. And what is more, our company combines the feeder machine with electricity and designs electromagnetic vibrating feeder which has more advantages compared with traditional feeder machine.
Structure and Working Principle of Vibration Feeder:
Vibration feeder consists of vibrating frame, spring, vibrator, motor vibrating device and motor. The vibrator is made of two fixed eccentric shafts whose gears are jogged. When installation, the two gears must be jogged according to the sign. Through drive of the motor, the two eccentric shafts start rotating to produce a linear huge power which forces the feeder to vibrate. Through the vibration, the materials will slip and sling on the funnel, moving forward, when the materials pass the screening part, smaller parts will fall down, and avoiding the further crushing, so screening purpose can be reached.