How to Build High-end Vibrating Feeder
(1) Improve the performance and reliability of the spare parts and reduce the maintenance quantity.
The operating rate of vibrating feeder is determined by the performance and reliability of the spare parts, so that the research and development of new technology is still crucial, such as the high performance controllable soft start technology, dynamic analysis and surveillance technology. The application of new materials and new technology especially high-performance materials remains further research such as reducing the weight of vibrating feeder and improving the product quality and the application of non-metallic spare parts rubber spring, composite spring and glass spring.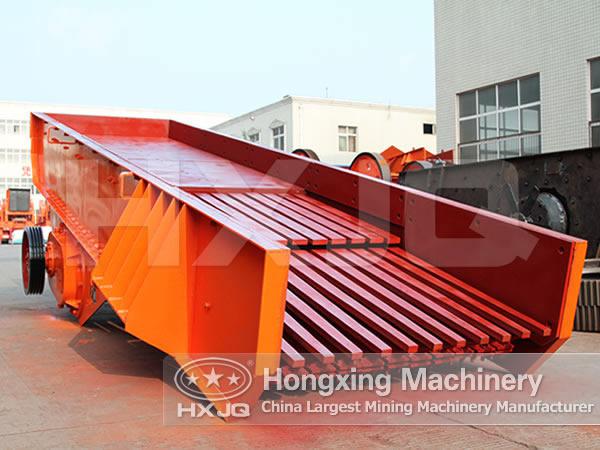 (2) To improve the processing capacity and adapt to the need of high yield and high efficiency intensive production, vibrating feeder is very likely to develop in the direction of large size, but the current research focus should still be put in structural design and stress state.
(3) Developing to standardization, serialization and universalization is the effective way to organize professional production, ensure quality and reduce the production cost. Developing towards high efficiency and high yield and the modernization process of the industry and increasing the size of the manufacturing company and improving the production capacity require vibrating feeder with high efficiency and high production capacity to satisfy the feeding requirement of the production process.
(4) Constantly improving the control and adjustment performance of vibrating feeder to always maintain its highly efficient working state. For example, control and adjust the angle of the material chute to adapt to the requirement of the processing amount and adjust the vibrating means to adapt to different materials and feeding efficiency.
Related Articles:
The Application of Vibrating Feeder Improves the Working EfficiencyConveyor Belt, Vibrating FeederFeeder Machine