Jaw Crusher is Primary Equipment for Material Crushing
During the 11th Five-Year Plan period, the water and electricity undertakings in our country developed very fast, and the market demands for artificial sand and stone materials become higher and higher. Water and electricity project is a construction project that requires high technological content and that has higher and higher requirement for the precision of artificial sand and stone materials. According to this requirement, Hongxing Machinery takes comprehensive consideration into the safety and quality of the water and electricity projects and researches and designs advanced artificial sand and stone material production technology and leading the mining machinery industry in the artificial sand making equipment is a goal long pursued by Hongxing Machinery.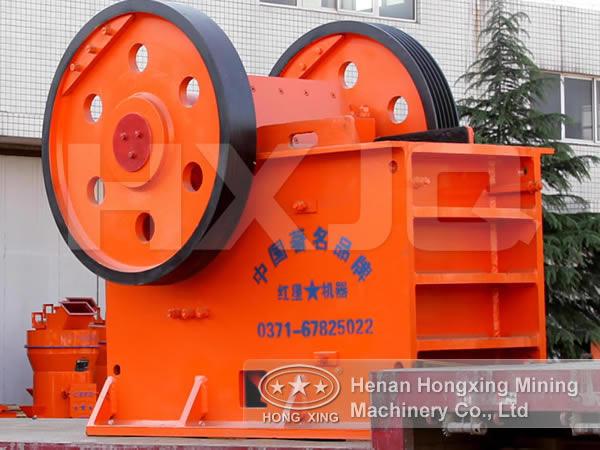 When designing sand making production line for the water and electricity project, to save more investment and achieve more economical operation, better effect of environmental protection and better comprehensive benefits are the motive power of Hongxing Machinery, who is always following the principle of customer foremost and constantly improves the equipment.
In the aspect of equipment technology, as the primary equipment for material crushing, jaw crusher is highly valued by our company. We constantly upgrade the production technology of jaw crusher, and the original and traditional jaw crusher is developed to deep-cavity large jaw crusher that is able to crush and reshape stone materials. Compared with the traditional equipment with the same power, the upgraded jaw crusher is improved by 30% in final output and has stable production capacity, unique material feeding structure and multiple types of crushing chambers.
In the crushing technology of sand and stone materials, considering the requirement of the water and electricity project and less investment, lower operational cost and simpler environment protection, it is paramount to really realize more crushing and less grinding and even replacing grinding with crushing in the crushing and grinding industry.
Related Articles:
Some Reasonable Improvement on the Mining MachineryProblems Needed to be Improved for Jaw Crusherall about jaw crushersHow to Eliminate bugs in Jaw Crusher OperationThe Compound Pendulum Jaw Crusher Brings the Prosperous Development of Mining MachineryThe Application of Hongxing Jaw Crusher in Various Production Lines