Structure and Working Principle of Compound Synchro Cone Crusher
Compound synchro cone crusher is a new crushing machine that is successfully researched and manufactured on the basis of inertia cone crusher and compound synchro refers to the synchronization of vibration and control. Here we will introduce the structure and working principle of this cone crusher.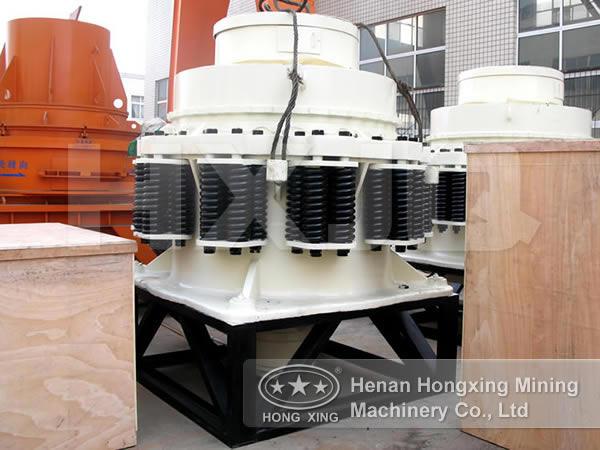 Compared with inertia cone crusher, this crusher has big crushing ratio and it can process materials with any strength and start and stop with load, and overload will not be caused even when foreign matters go into the crushing chamber; and there is no need to equip accessory equipment to process coal and the crushing process is simplified. What is more, it has the features of high machine height, simple structure, simple manufacturing and installation, convenient maintenance, low energy consumption, good product granularity property, small machine investment and the adoption of compound synchro principle of vibration synchronization and control synchronization.
The compound synchro cone crusher is mainly composed of motor, exciter, upper junction plate with feeding mouth, lower junction plate with discharging mouth, inner crushing cone, outer crushing cone and isolation spring. This new structure gets rid of the framework mode of traditional cone crusher. The two exciters with the same structure are installed on the two sides of the cone so that it is convenient to adjust the crushing force through adjusting the eccentric block of the exciters. The dip angle of the inner crushing cone is relatively large, thus improving the production capacity.
During the working process, the motor drives the two parallel axle-type exciters to rotate with the same direction and speed through the spring coupling to produce centrifugal force, under which, the inner crushing cone will circle the centre line of the machine. If there is no material inside the crushing chamber, the inner crushing cone will roll along with the inner surface of the outer crushing cone. If there are materials in it, then the inner crushing cone will roll along with the material layers, and together with the strong squeezing and vibratory impacting, the materials are effectively crushed.
Related Articles:
Hydraulic Cone Crusher has Bright Use ProspectGeneral Introduction to Hongxing Cone CrusherFeatures and Benefits of Cone Crusher The Effective Measures on the Developing Innovation of Cone CrusherHydraulic Cone Crushers Start to Stand out in Global MarketThe Manufacturing of Cone Crushers is Combined with Low Carbon