The Effective Measures on the Developing Innovation of Cone Crusher
The development of national economy and the changing of market boost the innovation and improvement of the interior structure and performance characteristics of cone crusher. And the following is some measures which can help to improve the development of cone crusher.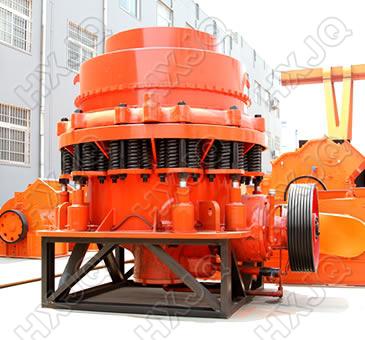 1.To enlarge the investment on importing of technology
HP series multiple hydraulic cone crusher and H1800 are the most excellent hydraulic cone crusher. The development and researching on the national cone crusher cannot compare with that of the overseas, and the importing and digesting on the technology cannot reach the peak of the same field. The nation should set up some institutes which are major in developing and researching on cone crusher. The domestic enterprises should increase the investment on innovation of mining machines.
2.To research the new type cone crusher with advanced technology
With the continuous development of new material, new technology and new craftsmanship such as the perfect design, electric computer, something like that improves the interior structure of cone crusher. The whole orientation of crushing machine is the researching on the crushing theory on the basis of the traditional design in order to reach the purpose of producing the excellent cone crusher with lower energy consumption with higher working efficiency.
3.To research the big size single hydraulic cone crusher
The fragile part pieces of single cone crusher is depending on the importing, which costs so much every year, and that is the reason why the market requires the new type single hydraulic cone crusher in the market. The operator should pay much more attention to the practical usage of cone crusher in order to realize the innovation, which must be one big breakthrough of our national mining machinery.
Related Articles:
Hydraulic Cone Crusher has Bright Use ProspectGeneral Introduction to Hongxing Cone CrusherFeatures and Benefits of Cone Crusher Hydraulic Cone Crushers Start to Stand out in Global MarketThe Manufacturing of Cone Crushers is Combined with Low CarbonCompound Crusher,Steel frame