The Improving Achievement of Hongxing Jaw Crusher
The jaw crusher manufactured by Henan Hongxing Mining Machinery Co., Ltd has reliable quality and advanced product performance, thus making it the model of new generation crushing machine. After market survey, designing, trial-manufacturing, testing, indentifying and launching, the mining equipment produced by Hongxing Machinery is widely acclaimed in the market with its solid technical foundation.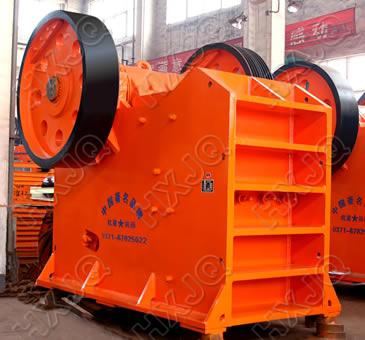 Hongxing Machinery makes improvement on the structure of the traditional jaw crusher. The deep cavity jaw crusher adopts new nip angle designing theory and its cavity shape is also be optimized. The new breakthroughs made on the structure of jaw crusher give it excellent performance of high processing ability, low grinding consumption, low energy consumption and big crushing ratio.
When using the improved jaw crusher, the following matters should be paid attention to:
(1) Just like traditional jaw crusher, before starting this new jaw crusher, it is necessary to clean the mineral rocks and other foreign matters inside the crushing chamber and make sure that the machine is started on the condition that there are materials in it.
(2) Generally speaking, the machine should be fed with materials after it is fully started, and the material feeding should be in an even manner.
(3) During the daily maintenance of jaw crusher, it is important to pay attention to the lubrication of all the lubricating points and ensure the temperature of the bearing during the running process, and the temperature of the bearing should not be too high.
(4) Regularly measure and adjust the size of the ore discharging mouth. For the sake of convenience, the workers can make a sample plate based on the size of the ore discharging mouth as the measurement basis.
High quality mining equipment is half success for the stone crushing work, and the mining machines manufactured by Hongxing Machinery can provide reliable and excellent equipment and after-sales service for you production.
Related Articles:
Some Reasonable Improvement on the Mining MachineryProblems Needed to be Improved for Jaw Crusherall about jaw crushersHow to Eliminate bugs in Jaw Crusher OperationThe Compound Pendulum Jaw Crusher Brings the Prosperous Development of Mining MachineryThe Application of Hongxing Jaw Crusher in Various Production Lines