Introduction to the Advantages of Vibrating Jaw Crusher
The vibrating jaw crusher is a vibratory crushing machine with the features of high crushing ratio, high processing ability and low energy consumption and selective crushing. It is mainly composed by the movable jaw, fixed jaw, imbalanced vibrator, material feeding device and discharging device. Next the experts from Hongxing Machinery will give a detailed introduction to the advantages of vibrating jaw crusher.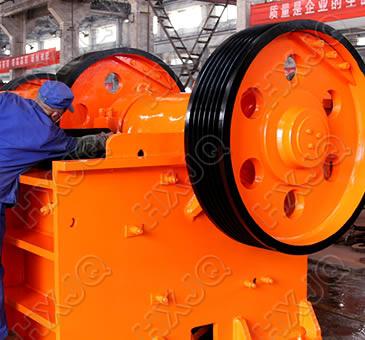 1. High crushing ratio.
Compared with the common jaw crusher, the crushing ratio of the vibrating jaw crusher is three times higher. The high frequency pulsation vibratory force produced by this crushing equipment is equal to a fixed impulse, for this reason, when the materials are moving up and down in the crushing chamber, forces with different angles will produce due the changes of the angles of the materials, in this way, the materials will get vibratory forces from different directions and will be crushed for many times, so that the machine has high crushing ratio.
2. The overload protection ability is good.
This crushing machine adopts movable jaw with high impacting speed, so that the position of the movable jaw will not be limited by the kinematics parameters. When some materials that cannot be crushed go into the crushing equipment, they will be automatically discharged out. No stoppage will be needed during the whole crushing process.
3. The machine can be started, stopped with work load.
The motor of the vibrating jaw crusher directly drives a eccentric heavy material, and when it is started, it is only to overcome the imbalanced static moment of the material. The factors such as the material amount inside the crushing chamber, the strength of the materials and whether the materials can be crushed or not will not influence the motor.
4. The discharged granularity of the machine will be influenced by the abrasion of the lining board.
The discharged granularity of the vibrating jaw crusher is mainly determined by the thickness of the material layers, but not by the size of the material discharging mouth, so that it will not be influenced by the abrasion of the lining board.
5. The crushing force has the property of impacting.
The impacting force of the vibrating jaw crusher is very fast and with the property of pulsation, and the impacting load effects the part between the jaw plate and the machine frame. And this increases the impacting load which is very effective to the crushing of the materials.
Related Articles:
Some Reasonable Improvement on the Mining MachineryProblems Needed to be Improved for Jaw Crusherall about jaw crushersHow to Eliminate bugs in Jaw Crusher OperationThe Compound Pendulum Jaw Crusher Brings the Prosperous Development of Mining MachineryThe Application of Hongxing Jaw Crusher in Various Production Lines