Performance Features and Working Theory of Vertical Type Impact Crusher
Vertical type impact crusher is suitable for crushing all kinds of hard and crisp materials including glasses raw materials, refractory, clay, artificial sand making, and it is a type of highly efficient and energy-saving fine crushing, coarse grinding and reshaping equipment.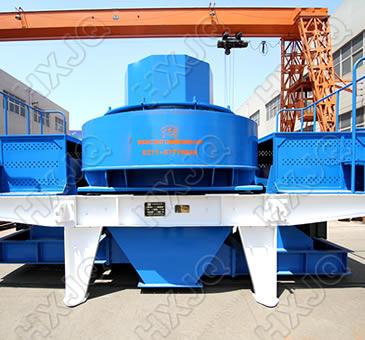 This vertical type impact crusher can also be used for coarse grinding, and it is able to crush materials smaller than 60mm.
Its working theory goes like this: the materials go into the crushing machine through the material feeder, and the materials are divided into two parts by the material separating machine, one part goes from the middle of the material separating machine into the impeller with high rotary rate and its speed is accelerated inside the impeller, and the acceleration speed can reach hundreds of times higher than the gravity, and then with the speed of 60-75 m/s the materials will be thrown out from the flowing path of the impeller. After the impact with each other, the material is crushed between impeller and cabinet and is discharged from the bottom. It can cycle many times with the close circuit and the sieve device will control the granularity of finished products.
Together with the cycle screening system, it will form a closed circuit system, and generally speaking, after three cycles, the materials will be crushed into below 20Moh. During the whole crushing process, the materials impact with each other without touching the metals, thus reducing iron pollution.
Related Articles:
Crucial role of impact crusher in sand production lineInstallation of Main Axis of Centrifugal Impact CrusherSand Makers can Process Pebbles High EfficientlySpecial and Distinctive Features of Impact CrusherMaterial Selection of Hammer for Impact CrusherThe Improving and Changing Aspects of Impact Crusher