Several Performance Characteristics of JC Jaw Crusher
JC jaw crusher is a new energy-saving crushing machine improved, researched and manufactured on the basis of Kue-Ken jaw crusher which is a famous crushing equipment manufactured by foreign countries. This type of jaw crusher has the following performance characteristics: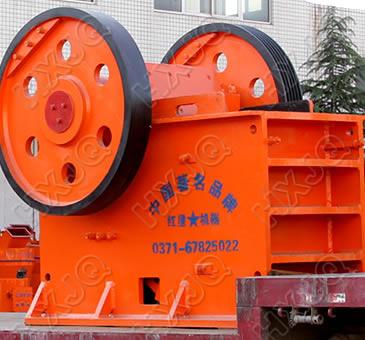 1. It adopts friction-free crushing mechanism, so that during the material crushing process, the acting force of the jaw plate on the materials is pure extrusion force without any relative sliding. In this way, the service life of the jaw plate is improved by five to ten times compared with compound pendulum type jaw crusher.
2. The crushing chamber adopts changeable tooth angle curing chamber, and through reasonably designing the tooth angle and the length of the chamber, full chamber crushing is realized, thus improving the go-through capacity of the crushing equipment and ensuring the even granularity of the crushing particles of the crusher.
3. This machine adopts simple and practical and multi-functional mechanical, hydraulic and electric protection system. When the crusher is over loaded, the mechanical protection safe clutch will quickly cut the main shaft and the belt wheel of the crusher, making the crusher run without any materials in it, and at the same time, it will ring the alarm. Once the overload is eliminated, the crusher will be able to restore to normal work without changing any spare part. In addition, when the crusher cannot work normally, for example, the lubrication system fails or the main spare parts are damaged, the multi-functional protection system will cut down the power supply immediately, thus stopping the crusher and ringing the alarm at the same time, in this way, the safety of the crusher is greatly improved.
4. The adjustment of the material discharging mouth can be fulfilled only by adjusting the position of the fixed jaw without changing the position of the movable jaw, for this reason, the adjustment is convenient and time-saving.
5. The main movable parts of this series crusher including the front and rare toggle plate, arbor of the toggle plate, connection rod eccentric shaft, bearing and the arbor all adopts whole sealing thin oil for lubrication and the sealing effect is good.
6. The whole machine adopts welding structure so that its weight is light, strength is good and the manufacturing and maintenance is convenient.
Related Articles:
Some Reasonable Improvement on the Mining MachineryProblems Needed to be Improved for Jaw Crusherall about jaw crushersHow to Eliminate bugs in Jaw Crusher OperationThe Compound Pendulum Jaw Crusher Brings the Prosperous Development of Mining MachineryThe Application of Hongxing Jaw Crusher in Various Production Lines