Hongxing Cone Crusher Improves Quarrying Corporate Revenue
The corporate revenue is an important composing part of the working performance of cone crusher. After many years of research and development, the cone crusher manufactured by Hongxing Machinery is able to improve the quarrying corporate revenue, realize "more crushing and less grinding", extend the service life of the cone crusher and the production capacity of the final product is improved by 54%.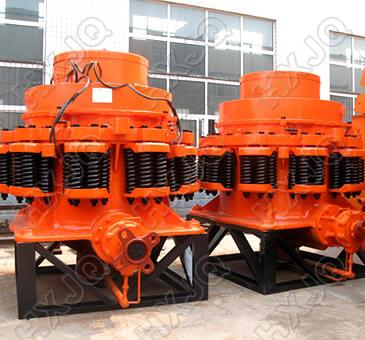 The conveying system of Hongxing cone crusher is unique and unmatchable in the world, and through improving the usable unit, we can gain stable and continuous sand and stone product.
Iron is an important strategic resource. It is mainly divided into magnetite, limonite, hematite, siderite and pyrites in China and the reserves of iron ore is pretty rich. The hardness of the iron is relatively high, so that it is often crushed by short-headed cone crusher.
With the acceleration of the economic globalization course, more and more crusher equipment manufacturing multinational corporations shifts their aims to Chinese market. Now the world famous crusher equipment manufacturing companies such as GEANiroA/S, Denmark and Ohkawara set up branch offices in China. Faced with more advanced technology, higher-end products and fiercer competition, Chinese enterprises must improve themselves, strengthen independent innovation, improve the production quality, build brand image, optimize the industrial structure and enhance the development level.
Related Articles:
Hydraulic Cone Crusher has Bright Use ProspectGeneral Introduction to Hongxing Cone CrusherFeatures and Benefits of Cone Crusher The Effective Measures on the Developing Innovation of Cone CrusherHydraulic Cone Crushers Start to Stand out in Global MarketThe Manufacturing of Cone Crushers is Combined with Low Carbon