Development Tendency of Ore Beneficiation Technology
Seen from the development process in recent several decades, the utilization amount of the fine hematite in China is constantly increasing. At present, the production quality of the iron concentrate in foreign market is relatively high and the iron content is also very high. For this reason, the ore beneficiation technology will certainly develop toward high quality, high yield and high efficiency in the future and the taste of the iron concentrate produced by the majority of the ore dressing plant in other countries is over 65%.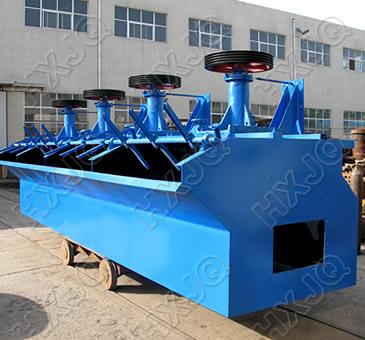 The mining machine manufacturing companies in foreign countries often eliminate the foreign matter during the process of the fine grinding and deep beneficiation and use such measures such as new highly efficient ore dressing technology, pharmacy and equipment in order to improve the dressing index of the hematite. In order to reduce the fine lean iron ore dressing cost and solve the desliming problem before the flotation process and reduce its influences on the environment, in recent years using untied process to treat the fine lean iron ore in other countries is the main important moving direction. In the flotation equipment aspect, the ore crusher manufacturing companies often adopt large flotation machine and use highly efficient and energy-saving flotation column to improve the fine particle separating efficiency and the quality of the iron concentrate.
The hematite resources in China is significantly rich, but there exist many problems such as low mineral taste, high content of foreign matters and fine distribution granularity, as a result of which, the difficulty of ore beneficiation is huge. Chinese experts and scholars have conducted a lot of research on the hematite ore dressing technology and have made great achievements, which have been applied in the ore dressing process.
Related Articles:
Indispensible Role of Jaw Crusher in Ore BeneficiationApplication and Advantages of Core Ore Beneficiation EquipmentHow can We Realize the Metal Ore Beneficiation?Importance of Our High Efficiency Ore ConcentratorImportance of Auto-control Ore Grinding and Classifying System in Ore BeneficiationSpiral Chute Provides Advanced Solutions for Mining