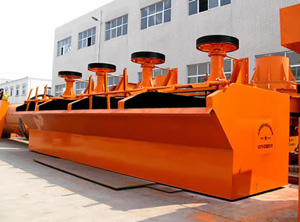 Brief Introduction To The Flotation Machine
The Flotation machine (Flotation separator) can be used for separating non-ferrous metals, ferrous metals, noble metals, non-metallic ores, and chemicals. The flotation machine can be used in roughing, scavenging, selection or reverse flotation. In the flotation process, after being mixed with additives, some qualified minerals float to the surface of the slurry and are scraped out while other minerals remain and are thus separated. We also provide flotation cells.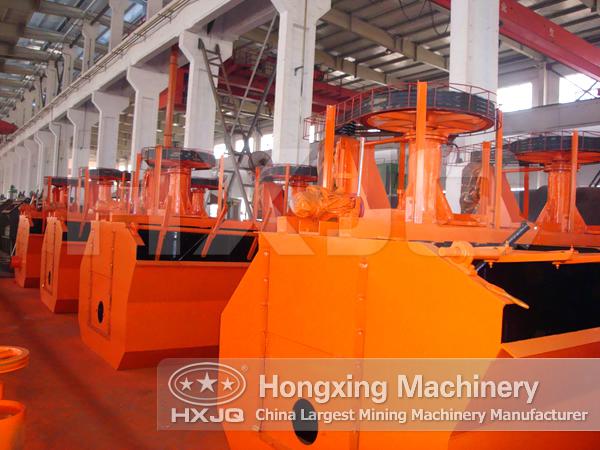 Composition Of SF Flotation Separator
Impeller of SF flotation separator is composed of the dosed double section cones and it can produce strong smutty cycle downward. Its features are as follows:
1) The capacity of air suction is large; the power consumption is low.
2) With three functions of air suction, slurry suction and flotation simultaneously being unique in flotation return circuit without need for any supplement and equipment, the circuit change is convenient for horizontal location.
3) The slurry cycle is rational; the settlement of coarse sand can be reduced into full play.
4) The regulation is convenient to equip auto and electro-controlling arrangements for slutty level.
Characteristics Of Flotation Cells
The structure of flotation cells: this machine is mainly composed of pulp chute, mixing device, air charging system, mineralized bubble discharging device and electro motor.
(1) Pulp chute: It has pulp feeding mouth and the gate device used for adjusting the liquid level and it is mainly composed of mainly composed by the chute body which is melt by the steel board and gate melt by the steel board and steel rod.
(2) Mixing device: It is mainly used for mixing the pulp in order to prevent the mineral sand to deposit on the chute, and it is mainly composed by the belt wheel, impeller, vertical shaft and the impeller is made of the anti-abrasion rubber.
(3) Air charging system: It is mainly composed by the inlet air pipe. When the impeller rotates, there will produce negative pressure inside the impeller chamber in order to absorb air through the hollow pump line and disperse the pulp in order to form a bubble group. This kind of pulp with large quantity of bubbles will be thrown to the stator fast by the rotary force of the impeller and further mineralize the bubbles in the pulp, and the rotary movement that is meant to eliminate the pulp flow in the flotation cell will cause large quantity of microvesicle and provide necessary condition for the flotation process.
(4) Mineralized foam discharging device: This device is mainly used for scarping the foam floating on the cell and it is mainly composed by the reducer driven by the electric motor and scrapper driven by the reducer.

Working Steps Of SF Flotation Machine
1) After intensively mixed, the pulp and medicaments are fed to the groove bottom of the first tank.
2) The impeller of the flotation machine begins to rotate; negative pressure is formed, which makes the air and pulp at the bottom and middle part of the tank enter the mixing zone. The pulp, air and medicament are then mixed in the mixing zone.
3) As a result of the centrifugal force, the blended pulps are led to the mineralization area. The air is in full contact with the coal particle and forms mineralized bubbles which are then equally distributed to groove wall and removed upward to the separation region. These bubbles then gather as a foam layer and are discharged by the scraping tool. Finally, clean coal foam is produced by this flotation machine.
Technical Parameters Of SF Flotation Machine
Model

SF0.37

SF0.7

SF1.2

SF2.8

SF4

SF8

Trough capacity(m³)

0.37

0.7

1.2

2.8

4

8

Impeller diameter(mm)

300

350

450

550

650

760

Production capacity (m³/min)

0.2-0.4

0.3-0.9

0.6-1.2

1.5-3.5

0.5-4

4-8

Impeller rotation speed (r/min)

386

400

330

268

220

191

Motor

Model

①Y90L-4

①Y100L2-4

①Y132M2-6

①Y160L-6

①Y180L-6

①Y250M-8

②Y90S-4

②Y90S-4

②Y90S-4

②Y90S-4

②Y90L-4

②Y100L-6

Power(kw)

①1.5

①3

①5.5

①11

①15

①30

②1.1

②1.1

②1.1

②1.1

②1.5

②1.5

Dimensions(mm)

700×700×750

900×820×950

1100×1100×1100

1700×1600×1150

1850×2050×1200

2200×2900×1400

Single trough weight(kg)

468

990

1873

2538

2838

4129
Technical Parameters Of BF Flotation Machine
Model
Trough cubage
(m³)
Inside dimensions
(L×W×H)
(m)
Air suction amount
(m³/㎡·min)
Power
(kw)
Motor model
Processing capacity
(m³/min)
Single trough weight
(kg)
BF-0.37
0.37
0.74×0.74×0.75
0.9~1.05
1.5
Y90L-4
0.2~0.4
470
BF-0.65
0.65
0.85×0.95×0.9
0.9~1.10
3.0
Y132S-6
0.3~0.7
932
BF-1.2
1.2
1.05×1.15×1.10
1.0~1.10
5.5
4.0
Y132M2-6
Y132M1-6
0.6~1.2
1370
BF-2.0
2.0
1.40×1.45×1.12
1.0~1.10
7.5
Y160M-6
1.0~2.0
1750
BF-2.8
2.8
1.65×1.65×1.15
0.9~1.10
11
Y180L-8
1.4~3.0
2130
BF-4.0
4.0
1.9×2.0×1.2
0.9~1.10
15
Y200L-8
2~4
2585
BF-6.0
6.0
2.2×2.35×1.3
0.9~1.10
18.5
Y225S-8
3~6
3300
BF-8.0
8.0
2.25×2.85×1.4
0.9~1.10
22
30
Y225M-8
Y250M-8
4~8
4130
BF-10
10
2.25×2.85×1.7
0.9~1.10
22
30
Y225M-8
Y250M-8
5~10
4660
BF-16
16
2.85×3.8×1.7
0.9~1.10
37
45
Y280S-8
Y280M-8
8~16
8320
BF-20
20
2.85×3.8×2.0
0.9~1.10
37
45
Y280S-8
Y280M-8
10~20
8670
BF-24
24
3.15×4.15×2.0
0.9~1.10
45
Y280M-8
12~24
8970

Note: If you're interested in the product, please submit your requirements and contacts and then we will contact you in two days. We promise that all your informations won't be leaked to anyone.