Importance of Auto-control Ore Grinding and Classifying System in Ore Beneficiation
The ore grinding and classifying process is the continuity of the crushing process and the important link in the ore beneficiation production, and its purpose is to grind the ore particles from big to small through ore grinding and the classifying, so that the particles will reach the rock granularity of the technical requirements which will be conducive to the metal recollection in the ore dressing process.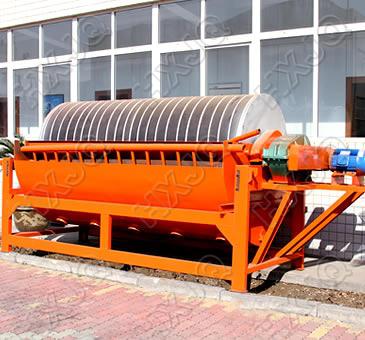 The automatic control of the ore grinding process will have a big influence on the ore grinding efficiency, for this reason, realizing the auto-control of the ore grinding process has great significance. On the basis of the many years' of research and on-spot experiment, the experts of Hongxing Machinery designed an ore grinding and classifying control system adopting PLC, which is divided into equipment level, control level and information level, which can be used for supervising the respective production process and the site equipment. After this control system is put into use, the automatic level of the ore dressing plant is improved, and the following functions are realized:
1. The control system can realize real-time monitoring to the electric motor of the equipment and the pump, and can start and stop the equipment at a long range, making sure that the equipment will start and stop according to the requirement and order of the technology and the alarm will be rung when a breakdown occurs.
2. The monitoring picture is installed according to the technical process and the technical parameters and the alarming value can be set.
3. The control system will optimize, adjust and control the ore grinding process, and on the basis of stabilizing the production index, it will improve the processing efficiency of the ore grinding, and optimized control the ore grinding density and workload, and finally realize the comprehensive control of the ore grinding system and reaching the goal of reducing energy consumption and production cost.
4. During the ore beneficiation process, if breakdowns occur in the production process or the equipment, the control system will ring the alarm through sound in order to remind the operational personnel to deal with it.
5. The control system will submit and release in real time the production information to the upper level department, thus improving the modernization management level of the enterprises.
From the above-mentioned functions, we can see that the ore grinding and classifying automatic control system will not only effectively control the ore grinding process, improve the automatic level and the control effect the of the ore dressing process, but improve the production efficiency and the production quality and the gain significant economic profits.
Related Articles:
Indispensible Role of Jaw Crusher in Ore BeneficiationApplication and Advantages of Core Ore Beneficiation EquipmentHow can We Realize the Metal Ore Beneficiation?Importance of Our High Efficiency Ore ConcentratorDevelopment Tendency of Ore Beneficiation TechnologySpiral Chute Provides Advanced Solutions for Mining