Analysis of the Use Experience of Cone Crusher
The cone crusher is the important crushing equipment in the stone production line, and it has been widely applied in many industries such as mining, metallurgy, building, road paving and chemistry. This crushing machine is suitable for crushing hard and medium hard rocks and ores such as iron ore, limestone, copper ore, quartz, granite and sandstone.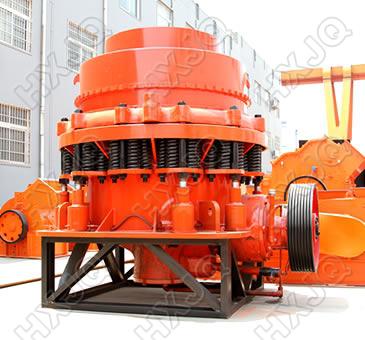 The experts of Hongxing Machinery will introduce to the customers the use experience of the cone crusher.
Correctly use the cooler: The temperature of the oil of cone crusher should be maintained between 38 and 54°C (100~130°F), and the best working temperature is between 38 and 46°C (100~115°F), and during this range, the stability of the performance of the lubricating grease can be ensured. If the environment or the operation causes the oil temperature to go up to 54°C (130°F), the lubricating grease cooler should be used.
Correctly set the alarming value of the oil return temperature: The recommended temperature by the manufacturing company is 60°C (140°F), but the working conditions of different use companies are different, so the alarming value should be set according to the actual condition.
The electric protection equipment should be in good condition: There are many protection devices on the cone crusher. When the lubricating oil pressure supplying the crusher is lower than the minimum safe working pressure 3PSI, the pressure on-off control should automatically alarm and the machine will stop feeding ores and in two minutes the crusher should be stopped.
Regularly analyze the oil sample: The worker should analyze the oil sample of the lubricating grease of the cone crusher every half month.
Related Articles:
Hydraulic Cone Crusher has Bright Use ProspectGeneral Introduction to Hongxing Cone CrusherFeatures and Benefits of Cone Crusher The Effective Measures on the Developing Innovation of Cone CrusherHydraulic Cone Crushers Start to Stand out in Global MarketThe Manufacturing of Cone Crushers is Combined with Low Carbon