Jaw Crusher Machine, Jaw Crushing Plant
Having concentrated on the research and development of crushing plant for more than 30 years, Hongxing Machinery is always trying its best to manufacture the advanced jaw crushing plant to meet the developing production needs.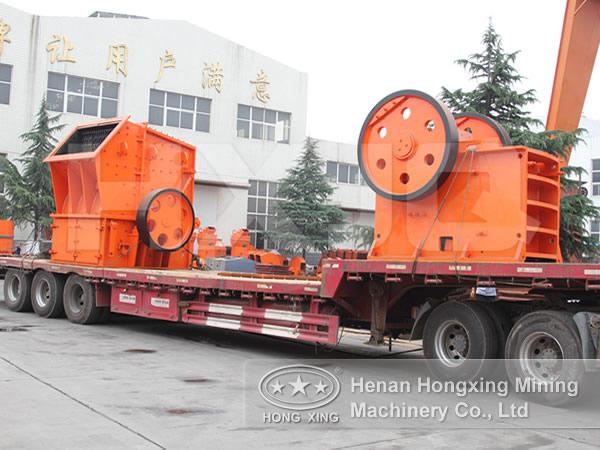 Overview of Jaw Crushing Plant:
Jaw crushing plant is developed on the basis of field experience from customer sites. Crusher cavity, kinematic and operating parameters have been defined and optimized to guarantee the excellent productivity for which Hongxing jaw crusher machine is known and valued. Crusher utilization has been optimized to give the steepest possible cavity cross-section. Excellent nip angle high up in the cavity, together with an aggressive linear stroke at the bottom, doing something like above on is just to ensure high throughput capacity and reduction. Outstanding reliability combines with excellent productivity to give the lowest cost per produced ton of endproduct.
High Production Capacity of Jaw Crusher Machine:
Hongxing jaw crushing plant includes PE jaw crusher, jaw crusher machine, impact crusher or mini jaw crusher, vibrating screen, belt conveyor and centrally electric controlling system, etc. The designed capacity is from 40t/h to 600t/h. To meet customers' specific requirement for the stone crushing, we can also add other equipment such as cone crusher, dust catcher in the crushing plant.
Working Theory of Jaw Crushing Plant:
When the jaw crushing plant works, vibrating feeder takes the materials into jaw crusher for the first crushing process. Then materials will be sent into the cone crusher for the secondary crushing process. Vibrating screen is mainly to eliminate the undesired materials involved in the end products in the mobile crushing plant.
A Professional Jaw Crusher Machine Manufacturer---Hongxing Machinery
Henan Hongxing Mining Machinery Co., Ltd, a professional and world-famous jaw crushing plant manufacturer, has produced the newest crushing machine to meet customers' needs. Relying on more than 30 years' experience, high quality and low cost price equipment is offered to all the clients. Our products are welcomed by clients from India, South Africa and so on. If you are interested in our products, please contact us. We are looking forward to cooperating with you.