Quarry Equipment
Overview of A Quarry:
A quarry is a type of open-pit mine from which rock or mineral ore is extracted. Quarries are generally used for extracting building materials, such as dimension stone, construction aggregate, riprap, sand, and gravel. They are often collocated with concrete and asphalt plants due to the demand for large amounts of aggregate in those materials.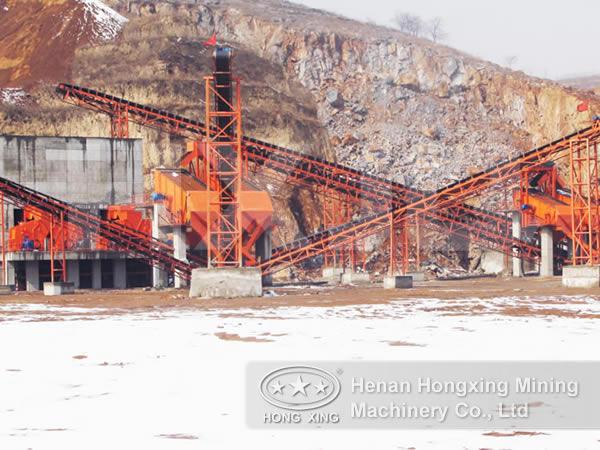 Determination of Design and Running Operation of A Quarry:
Although in general a quarry is a type of open surface working from which virgin rock or mineral ore are extracted, each quarry is very different and will have different types of quarry equipment. The design and general running operation of a quarry depends on the type of rock being extracted, the general environment surrounding the quarry, the size of the quarry and the geography and geology of the general area.
Working Process of A Quarry:
The rock arriving at the processing plant has to go through the crushing process in the following process. The specialist quarry machine used will depend on the size of the rocks being crushed and the desired size. The different sized stone is then separated by the use of mining sieve. The stone is then stored in huge stockpiles according to the aggregate, such as rock, sand or gravel. Some of these stockpiles may be so large that they have to be kept outside.
Quarry Equipment that is Used:
During the quarrying process, a complete set of quarry equipment will be used such as jaw crusher, sand maker, impact crusher, ore elevator machine and belt conveyor. When quarrying the limestone, the specially designed limestone machine will be necessary.
In Hongxing Machinery, the quarrying processing is of great importance to us since we are a professional and the best manufacturer and supplier of specialist quarry machine in China. For further information please call us on +83-371-67833171.
Related Articles:
Portable Rock CrusherPulverizer Manufacturing Expert in China-Hongxing Machinery