Portable Rock Crusher
Portable rock crusher or mobile stone crusher plant is mainly used in the fine crushing after primary crushing. Mobile stone crusher machine is used in crushing medium-hard and lower abrasive materials. The capacity range of Portable aggregate crusher is 50—250t/h. Impact crusher and Circular Vibrating Screen is the unit of fine crushing and screening. They compose the portable aggregate crusher.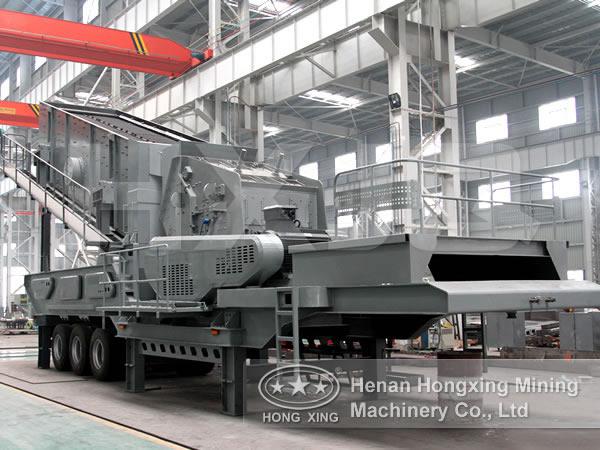 Application of Mobile Plant Crusher Stone:
The mobile construction station is applied to crush large materials and to screen the aggregate according to their different specifications. The whole set portable aggregate plant is widely used in mine, building material, highway, and rail way and hydropower industries. And it can help to finish crushing and screening operations at one time, which also can produce required size and output for consumers.
Features and Benefits of Stone Portable Machine:
The mobile stone crushing machine has the advantage of reasonable matching, unobstructed discharge all line, reliable working, convenient operation, high efficiency and saving energy. Especially the mobility is very good, so it can extend with the raw material places or the construction place, and it can also make multiple matching, which is helpful to satisfy different product requirements.
Structure and Working Principle of Mobile Quarry Plant:
The mobile quarry plant is composed of primary crushing and screening station and secondary one, belt conveyor, etc. Every portable rock crusher is an independent working unit, they can respectively assume their different responsibility, and the belt conveyer is responsible for material transmitting and piling up between each crushing station.