Impact Crusher is a New High Efficient Crushing Device
As one of the most frequently used crushing machines, impact crusher is a new type crushing machine with high production efficiency. Its features are small size, simple structure, high crushing ratio, low energy consumption, uniform product granularity and selective crushing effect, for this reason, this machine has very bright future. However, it also has its own disadvantages, which is that its hammer plate and the impacting plate are very easy to abrade, especially when crushing hard rocks, the abrasion will be pretty serious. At present, the wearing-resisting materials have been applied in some metal ore beneficiation plants.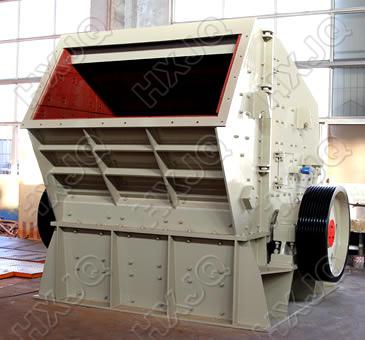 The Mineral Impact Crusher Machine is mainly made up of rotor rack, impact rack, ratchet wheel open-cover device, rotating parts as well as other components. There are two parallel rotors in the Mobile Impact Crusher with some altitude differences. The position of the first rotor is relatively high, with an angle of 12°from the node of the first and the second rotor. The first rotor is a heavy type used for coarse crushing; the second rotor rotates fast, which can meet the needs of the final product. The rotors are both fixed with bolts. The 12 blow bars distributed to 6 rows are made of high manganese steel. The rotors are fixed on the main shaft and separately connected with the coupling by two engines.
Broadly speaking, the main development direction of the impact crushing at home and abroad in the future is reflected in the following aspects:
Firstly, the structure of the impact crusher needs improving to improve the crushing ability of crushing medium hard rocks and the convenience of the equipment maintenance, and this improvement should be mainly focused on the improvement of the hammer and the structure of the rotor for the convenience of the change of the hammer plate. In addition, the structure of the crushing chamber should be optimized so as to improving the one-time crushing rate of the rocks and the utilization rate of the energy.
Secondly, the mining machinery manufacturing companies should research and develop high wearing resisting and high flexible new hammer plate materials in order to improve the service life of the hammer plate and improve the production capacity.
Working Principle of the Impact Crusher:
The materials fall to the high-speed rotating turn plate. With the effect of strong centrifugal force, these materials in the plate hammer function area will impact with hammers on the rotor. Then the materials will be thrown into the counter attack device for second crushing. After that, they are rebounded to the former area from the impact lining board for further crushing. This process will be repeated until desired purpose is achieved. The finished products will be discharged from the discharge port. To control the granularity and the shape of the materials, you can adjust the space between the impact rack and the rotor.
Related Articles:
Crucial role of impact crusher in sand production lineInstallation of Main Axis of Centrifugal Impact CrusherSand Makers can Process Pebbles High EfficientlySpecial and Distinctive Features of Impact CrusherMaterial Selection of Hammer for Impact CrusherThe Improving and Changing Aspects of Impact Crusher