Disparity of Domestic Research Technology of Jaw Crusher with Foreign Countries
At present, the domestic research and development method of jaw crusher still remains on the traditional methods, for example, change the general designing parameters such as changing the hanging height, and simply improve the chamber types on the basis of the original crusher chambers. These improvements are often made according to actual experience with specific theoretical basis. There are other designers who changed the original single crushing chamber into double chamber in order to improve the crushing efficiency. Such improvements and innovations of the designers achieved some effects and primarily realized some goals. However, they did not completely realize the above-mentioned objectives and could not satisfy the requirements asked by the modern mining production industry for the crushing equipment.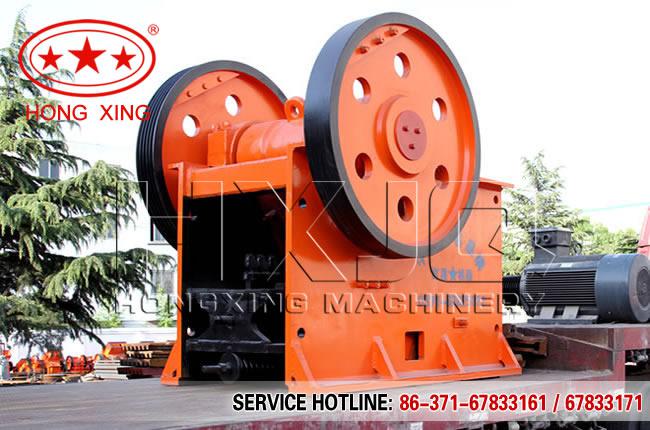 There are three development objectives in the domestic mining machinery production industry, firstly, adopts new design concept and breakthrough the ordinary designing ways and conduct technological innovation and manufacture equipment that is able to be used in large projects; secondly, improve the automation degree of the equipment. Because compared with foreign countries, we are relatively insufficient in workers and we can only make up for the shortage of the workers by way of improving the performance of the machines and enhance the automation degree and decrease the independence on the workers; finally, reduce the unit energy consumption of the crushers and improve the crushing efficiency.
The research purpose of jaw crusher by Henan Hongxing Mining Machinery Co., Ltd is to make full use of the fast-developing computer technology, adopt new designing concept, and design some parameters as the adjustable parameters, research the basic features of the multi-parameter compound toggle jaw crusher and find out the basis for the designing.
Related Articles:
Some Reasonable Improvement on the Mining MachineryProblems Needed to be Improved for Jaw Crusherall about jaw crushersHow to Eliminate bugs in Jaw Crusher OperationThe Compound Pendulum Jaw Crusher Brings the Prosperous Development of Mining MachineryThe Application of Hongxing Jaw Crusher in Various Production Lines